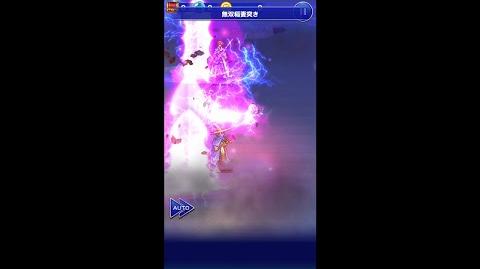 "Absorb power in the sky and strike! Lightning Stab!"

When used in Final Fantasy Tactics.
Hallowed Bolt (無双稲妻突き, Musō Inazuma Tsuki?, lit. Peerless Lightning-Flash Thrust), also known as Lightning Stab, is a recurring ability in the series. It is a powerful sword skill utilized by high-ranking knights, primarily by Holy Knights.
Appearances
Edit
I call out to the skies and tremble as the brilliance of a thousand bolts blinds mine enemies and tears their flesh asunder.

Activation quote.
Hallowed Bolt is used by both
Agrias
and
The Thunder God
's Ephemeral Knights in
The Orbonne Monastery
. In both boss fights, it targets a player for either a donut AoE centered around that player, then a circular AoE centered on that same spot, or vice versa. In The Thunder God's case, it will also be followed by a stacking mechanic wherein players share and therefore reduce the damage it deals. Players will suffer a short Magic Vulnerability Up debuff, making it impossible for any players with this status to take two Hallowed Bolts simultaneously and survive.
Hallowed Bolt is an ability usable by the Holy Knight, Rune Knight, and Sword Saint classes, learned for 700 JP. It deals non-elemental damage (despite the game saying it deals Holy and Thunder-elemental damage) and Silence to all targets with a + from the chosen point with a range of 3, an effect of 2 and a vertical of 1.
Hallowed Bolt is a reactive ability that costs 18 CP to equip. It is activated in Battle Music Sequences (BMS) when a boss-class enemy appears. It deals damage in direct proportion to Strength, Spirit, and level. It is learned by Agrias (level 40) and Orlandeau (level 40).
Community content is available under
CC-BY-SA
unless otherwise noted.