Auron
:
Once Guild fixes its title, we leave.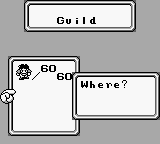 Guilds (アドベンチャーズギルド, Adobenchāzu Girudo?, lit. Adventurer's Guild) allow the player to recruit a variety of characters in The Final Fantasy Legend, each with their own strengths and flaws. This customization of a party either removes or adds to the challenge. Guilds are found on every main level, except for World of Sky, but two guilds are found in the World of Ruins.
Characters are revived at the House of Life as long as they have at least one Heart remaining. At any point, the player can replace dead characters at the guild, except for the first character chosen at the beginning of the game. The unit cannot be replaced if Dead, including 0 hearts remaining.
The party setup before the game starts uses the Akiba guild. The player must choose one unit at this time.
List of Guilds
[
]
Name
Image
HP
Str
Def
Agl
Mana
Abilities

Human M

40
7
0
3
0
Hammer

Human F

40
3
0
7
0
Rapier

Mutant M

20
7
0
3
5
Hammer

Mutant F

20
3
0
7
5
Rapier

Lizard

40
5
7
4
2
Bite
Ice

Skeleton

20
5
2
4
7
Bone
Par/Wp
Fire

Albatros

20
6
3
9
4
Beak
Quake

Goblin

20
9
6
4
3
Nail
Name
Image
HP
Str
Def
Agl
Mana
Abilities

Human M

60
8
1
4
0
Long
Bronze

Human F

60
4
1
8
0
Saber
Bronze

Mutant M

40
8
0
4
6
Stealth
Long

Mutant F

40
4
0
8
6
Stealth
Saber

Barracud

60
9
6
11
5
Fin
Fire
Elec

Snake

60
9
11
7
5
Bite
Ice

Worm

82
9
5
4
8
Bite
Ice

Wolf

60
12
8
10
5
Bite
Name
Image
HP
Str
Def
Agl
Mana
Abilities

Human M

60
8
1
8
0
Long
Bronze

Human F

60
4
1
8
0
Saber
Bronze

Mutant M

40
8
0
4
6
Stealth
Long

Mutant F

40
4
0
8
6
Stealth
Saber

Clipper

20
4
9
7
6
Pincer
Ice

Redbull

60
8
7
5
4
Horn
Ice

Wererat

40
8
4
5
7
Tusk

Zombie

60
12
4
3
6
Nail
Para
Fire
Name
Image
HP
Str
Def
Agl
Mana
Abilities

Human M

368
54
0
28
0
Silver

Human F

368
28
0
54
0
L-Saber

Mutant M

330
54
16
28
41
Leech
Kinesis
Hypno

Mutant F

330
28
14
54
41
Telepor
Heal
P-Blast

Ice Crab

330
41
67
29
27
2Pincer
Bite
ParaSkin
Ice
Ice
Elec

Seeker

295
29
41
27
67
Gaze
Beam
Warning
Quake

Stoneman

330
55
41
28
53
Kick
Bash
Gas
Quake
Change

Chimera

262
37
36
49
50
Nail
Tusk
3Heads
Flame
Quake
Name
Image
HP
Str
Def
Agl
Mana
Abilities

Human M

368
54
0
28
0
Silver

Human F

368
28
0
54
0
L-Saber

Mutant M

330
54
16
28
41
Leech
Kinesis
Hypno

Mutant F

330
28
14
54
41
Telepor
Heal
P-Blast

Dragon 4

501
66
64
47
83
Nail
Tusk
Flame
Blind
Fire
Quake

Naga

454
43
59
61
77
Tail
Strict
Poison
Fire
Cure
Gaze

DemoLord

501
61
58
59
62
Nail
Sleep
F-Flower
Ice
Fire
Quake

Gummy

551
44
43
42
77
Melt
Bother
Stealth
Par/Wp
Quake
Fire