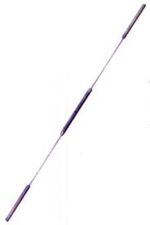 A rod, brimming with holy powers, that once belonged to a maiden who wished to put a stop to evil.

Lightning Returns: Final Fantasy XIII description
Guard Stick (ガードロッド, Gādo Roddo?), also known as Guard Rod, is a recurring weapon in the series. It is often a low-ranked staff or rod, and provide minimal boosts to attack. It is often depicted as Aerith Gainsborough's trademark weapon.
Appearances
Edit
The Guard Stick is Aeris's initial weapon, providing +12 Attack, 99% Attack%, +2 Magic, +1 Vitality, +4 Spirit, and has a single materia slot at normal growth. It can be sold for 140 gil.
The Guard Stick is a dual blade-type weapon available to Lightning through the downloadable content. It provides 250 points to Strength and Magic, reduces Stagger Power by 55%, boosts Guard Defense by 50 points, and halved Strength.
A light form of Aerith's Guard Stick is featured in Limit Breaks of healer classes.
The weapon is a level 10 rod that provides +80 HP, +8 Attack, and +1 Defense. It can be obtained from the shop by trading 2,000 gil.
The weapon is a level 1 rod that provides +122 HP, -28 Bravery, +9 Attack, and +2 Defense. It can be obtained from the shop by trading 1,220 gil.
The Guard Stick also appears as Aerith's weapon.
Aerith wields the Guard Stick in her character model.
The staff used by a champion from another world. Capable of warding off magical attacks.

Description
Non-Final Fantasy guest appearancesEdit
A rod with high defense.

Description
The Guard Stick appears as a 2-handed rod within the Forsaken Dungeon. It provides 4 Weapon Atk, 9 Durability, +10 Defense, +2 Magic Atk, and +10 Magic Def. It can be bought for 150 gil at the Merchant's Shop. Only Clair Andrews can equip this weapon.
Community content is available under
CC-BY-SA
unless otherwise noted.