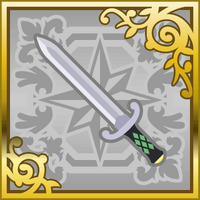 An extremely large sword. One strike from this blade can cause a vast amount of damage, but the great weight it carries limits the amount of people who can actually wield it. Even if one manages to lift it, swinging it may prove impossible for the average person. For this reason, the great sword is said to be more commonly used to mow down enemies, rather than actually cutting them.
The Greatsword (グレートソード, Gurētosōdo?), also known as Great Sword, Giant or Regal Cutlass, is a recurring weapon in the Final Fantasy series. It is often a low to mid ranked sword or greatsword with no outstanding abilities.
Appearances
[
]
A sword effective against giants.

Description
The Great Sword (Giant in the NES version and Claymore in Origins version) is a mid-ranked sword which is effective against Giant-type enemies. It adds 21 to Attack Power and can be found in Mount Gulg.
Sword with a broad blade. Can be used two-handed. Can be used with Spellblade.

Description
The Great Sword (also known as the Regal Cutlass) is a mid-level sword with 54 Attack and 57 Hit. It can be bought in Surgate Castle for 8,400 gil, or found in Castle of Bal.
The Great Sword (also known as the Regal Cutlass) is a low-level sword and the second-weakest sword. It has an Attack power of 54, and it can only be equipped by Terra, Edgar, and Celes. It can be found in South Figaro and purchased in the World of Balance at South Figaro and Narshe for 800 gil.
The Greatsword is a level 41 greatsword that does 55 damage and has 456 delay. The Greatsword +1 is not very different at the same level, while doing slightly more damage with a smaller delay.
The Greatsword has an attack power of 34 and a hit rate of 20.
The Greatsword weapon is a level 8 greatsword that provides + 10 to Attack and has no special effects.
The Greatsword weapon is a level 1 greatsword that provides +11 Attack and -2 Defense. It can be obtained by trading 1,300 gil.
Great Sword is a Great Sword obtained by 1,500 gil at Royal Capital Grandshelt and by crafting it using 300 gil, x1 Broken Blade, and x10 Iron Ores. It provides 27 ATK.
Non-Final Fantasy guest appearances

[

]
Provides magic defense.

Description
The Great Sword appears as a sword within the Forsaken Dungeon. It provides 27 Weapon Atk, 8 Durability, +1 Magic Def, -1 Speed, and -1 Consumption Rate.
Gallery
[
]
Etymology
[
]
[view · edit · purge]A sword is a blade weapon used primarily for cutting or thrusting. The precise definition of the term varies with the historical epoch or the geographical region under consideration. A sword in the most narrow sense consists of a straight blade with two edges and a hilt. However, in nearly every case, the term may also be used to refer to weapons with a single edge (backsword).