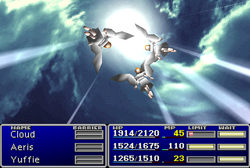 Great Gospel (大いなる福音, Ōinaru Fukuin?) is Aerith Gainsborough's signature move that calls down healing rain that protects those it touches. It first appeared as her ultimate Limit Break in Final Fantasy VII.
Appearances
Edit
Great Gospel is Aeris's ultimate Limit Break. The player can begin the search its manual after acquiring the buggy, as driving it into the Costa del Sol allows passage aboard the cargo ship to Junon. In the north of the Junon Area there is a cave past the shallows where a sleeping man will give the player the Mythril item if the total number of battles fought ends in two matching odd numbers or zeros; e.g. 11, 133, 255, 1077, 699, 200.
After the events in Rocket Town the Mythril can be taken to the man in the cabin between the Gold Saucer and Gongaga village and opening the smaller box located on the upper floor nets the Great Gospel item. Until the player receives the Tiny Bronco, the blacksmith's house will be empty, and Cloud is immediately returned to the field screen after entering.
Aeris can use the Great Gospel manual in the menu after learning all of her other Limit Breaks. Great Gospel restores the HP and MP of the party, and makes the party temporarily invincible to all physical and magical attacks.

Aerith uses Great Gospel from the Lifestream to cure Geostigma victims.
Great Gospel is an auto-ability that restores 6.5% HP after guarding continuously for 10 seconds. It is obtained by equipping the Flower Bearer shield, as part of Lightning's Aerith-themed set, Midgar's Flower Girl.
Great Gospel is an exclusive reactive ability that costs 25 CP to equip. It is activated just once in Battle Music Sequences (BMS) when a boss-class enemy appears. It restores HP gauge by 90%. It is learned by Aerith (level 40).
Players can transform into Aerith via the Trance system and use Great Gospel.
Etymology
Edit
[view · edit · purge]The Gospel of Mani or Living Gospel (also Great Gospel, Gospel of the Living and variants) was a 3rd-century gnostic gospel written by Mani.
Community content is available under
CC-BY-SA
unless otherwise noted.