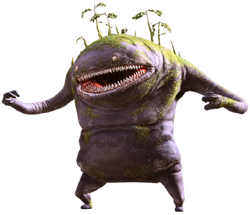 Goobbues are a large creature from Final Fantasy XIV, appearing in the La Noscea and Thanalan territories.
Between the 1.20b patch update and the 1.23a patch update, Goobbues became a mountable creature similar to Chocobos, and could be obtained by players level 30 or above. To do so, one had to simply speak with the "Wandering Minstrel" NPC, who could be found in Eastern La Noscea (36,25).
The goobbue mount was intended as a veteran reward for those who stuck with Final Fantasy XIV during its troubled original launch, and could only be obtained before the release of Final Fantasy XIV: A Realm Reborn.
Goobbue Sproutling appears as a minion.
Gallery
[
]