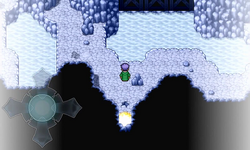 Way north of here is a cave filled with gigantic icicles! Moogles don't do well in the cold, kupo!

Moogle
The Glacial Cave (氷結の浸食洞, Hyōketsu no Shinshoku Hora?) is an optional dungeon in Final Fantasy Dimensions. Shiva can be fought and acquired here.
Story
[
]
The Warriors of Light come here on their quest in Rusalka. The cave is briefly mentioned by a Moogle in Forest of the Fey. It is covered with thick ice and icestorms occur sometimes. At the end of the cave, the Warriors meet Shiva. Upon being defeated, Shiva decides to lend the Warriors her strength. After that, the cave warms up as the ice begins to melt.
Treasure
[
]
Enemies
[
]
Gallery
[
]