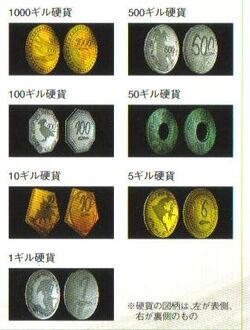 Gil (ギル, Giru?), also translated as GP, Gold, and G, is the currency in all Final Fantasy games. It is acquired throughout each game and used for making various purchases and occasionally used via some abilities, such as Gil Toss.
Profile
[
]
Appearance
[
]
Gil is almost never seen in-game, often only when using the Gil Toss command. The currency is predominantly circulated in coins of varying value. The only mention of paper gil in the series is in Final Fantasy Tactics A2: Grimoire of the Rift, where Luso delivers a letter containing several gil notes.
In Final Fantasy X, gil coins come in several colors (and presumably metals), and each bears an image on one side and the value of the coin on the other. In Final Fantasy VI and Final Fantasy VII, gil takes the form of silver coins with holes through the middle, or gold coins with holes in Final Fantasy V. In Final Fantasy XII, Penelo can briefly be seen holding a pair of coins presumed to be gil, one silver and one gold, with unclear detailed markings on them.
This suggests that gil is loosely based on the Japanese yen (円) or ancient Chinese coins, with the Final Fantasy X gil coins appearing very similar to yen coins. The yen, along with other Chinese and Japanese currencies, such as the mon, have holes in some of the coins, a trait dating back to feudal times when coins were carried on string.
Usage
[
]
Gil is a metric currency, measured in base ten. Beyond this, the exact value of gil varies between games. For example, a Potion in Final Fantasy IV costs 30 gil, while they cost 50 gil in Final Fantasy VI and 100 gil in Final Fantasy VII. Some rare items, such as Elixirs, have low sale prices—usually only 1 gil—as if to discourage the player from selling them. The value of items between individual shops and towns is universal for most games, and items do not change in pricing depending on where the player shops. There are a handful of exceptions to this, allowing the player to earn discounts at some stores, but this is rare.
Gil has many other uses, such as the aforementioned Gil Toss ability, which allows the player to damage enemies by throwing money at them. Gil Toss often does great damage, but at the obvious drawback of costing a great deal of gil. In Final Fantasy X and Final Fantasy X-2, gil can be used to bribe monsters to leave the battle as well as entice Yojimbo into attacking enemies. In Final Fantasy XII, the Turtleshell Choker accessory allows the equipped party member to cast spells using gil instead of MP.
In Final Fantasy VII, gil and GP are treated as separate currencies. At the Gold Saucer amusement park, GP is used to pay for many attractions, while others charge gil. GP is also used to buy items from the park. GP cannot usually be exchanged with gil, but a man randomly appears outside the park who sells the player GP for 100 gil apiece. Otherwise, GP can only be acquired by winning the Saucer's minigames.
Acquiring
[
]
Gil can in most games be found in treasure chests and often as awards for subquests. Most Final Fantasy games allow gil to be won from enemies, but there are exceptions. In Final Fantasy VIII, the player earns a regular salary based on their SeeD ranking. In Final Fantasy XII, most monsters do not drop gil but instead drop loot, which can be sold for both gil and access to exclusive Bazaar items. In Final Fantasy XIII players must find item spheres containing gil, or sell premium items.
In some games, gil can be stolen from monsters. Some games offer the player the chance to win more gil from battles by using certain accessories or abilities, and some penalize the player an amount of gil for fleeing from battle. In all of the above instances, items can be sold for gil as well.
In games where monsters leave gil, stronger monsters usually leave more. The reverse applies for games that penalize the player for fleeing—the stronger the monsters they are fleeing from, the more gil they will lose.
Appearances
[
]
Gil can be obtained in treasure chests, from defeated enemies, and from selling items. The maximum amount the player can amass is limited to 999,999 gil.
Gil can be obtained in treasure chests, from defeated enemies, and from selling items. Most enemies have a variable amount of gil that may be obtained from slaying them. If an enemy drops an item, they will not drop any gil, though other enemies in the formation can still drop gil.
The maximum amount of gil the player can accumulate is 9,999,999 gil.
Gil is earned by defeating enemies and selling items and equipment.
Gil is earned by defeating enemies and selling items and equipment. The game will also penalize players that run from a battle by deducting gil.
Gil is earned by defeating enemies and selling items and equipment. Gil may be dropped by the party after successfully escaping from battle.
Gil is earned by defeating enemies and selling items and equipment. Gil may be dropped by the player after escaping from battle.
Gil is earned by selling items and equipment as well as defeating enemies. This is also the first title in which Gil Toss, known as Zeninage, is used, dealing massive amounts of damage at the cost of gil.
Gil is earned by defeating enemies and selling items. Gil Toss can be used by Setzer to attack enemies with gil if he equips Heiji's Jitte. Accumulating over a million gil in the mobile/Steam version earns the Fun to Save, Fun to Use achievement.
Gil is obtained from enemies after battle, from chests and by selling items. Gil is used to buying items, equipment and materia, for inns and transport services, and for buying GP at Gold Saucer and for the Coin command. Trickplay's ability, Gold Mountain, increases the amount of gil received after battle by 800 gil every time it is used. The sell price for items is half the buy price, while Materia sells for its AP value, except mastered Materia, which sells for significantly more. Gil Plus Materia lets the party earn gil at expedited rate from battles.
Gil is earned from felled enemies and sometimes found in treasures or gained from completing quests. The
Gil Up Materia lets the player earn gil from battles in an expedited rate.
Two coins are depicted up close, though neither are specified as being gil: Chocobo Sam's double-headed coin, and Rufus Shinra's personalized[1] Shinra-themed coin that he tosses during his boss battle.

Gil is earned by killing enemies and finding it in chests. Killing multiple enemies will increase the amount of gil received via an enemy kill multiplier. The multiplier is increased by 1 when the player kills an enemy without receiving damage; the multiplier cannot exceed x9. The multiplier is reset to 1 when the player takes hit, or when winning/losing/escaping a battle.
MULTIPLIER = Y
1 kill = Y + 1
1 kill = RECEIVE GIL x Y
HP + DAMAGE = Y = 1
Gil is dropped by various enemies once they are defeated and appear in the form of gold bars which Vincent can collect to buy items and weapon upgrades.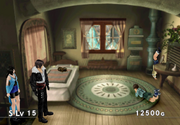 The player does not earn money from battles. Instead, they are paid a regular salary once they become a SeeD. This stemmed from the developers encountering comments online on asking why monsters would drop money in games, which got them into thinking what other ways they could use.[2] The amount of money paid depends on their SeeD rank. Being paid salary for the first time in the Steam version earns the player the achievement First Salary. Gaining maximum gil earns the player the achievement Maximum Gil.
The salary is paid at regular intervals dependent on the amount of steps the player has taken. Since the player earns no steps during Laguna flashbacks, they can't get paid during those scenarios. As more steps are accumulated by driving a car or riding a chocobo, the player can make quick money by riding either one in circles on the world map, but if the player doesn't fight battles in between payments, their SeeD rank will decrease.
Gil is used for train tickets, buying items at shops and weapon remodeling.

Gil is used for shops, auction house, inns, escaping from battle with Flee, and Amarant's Spare Change ability. Gil is earned from battles, Chocobo Hot and Cold, and chests and field terasures. Quina's Millionaire can earn more Gil from battles. With the Flee-Gil support ability, Gil can be earned even from escaped battles (only with normal escape with

and

, does not work with Flee).
The Treno Auction House auctioneer

has a symbol on him that may be the currency symbol for gil in Gaia. Coins appear in Mimic's Eat ability

, and in Zidane's Thievery ability, but it is unknown if they are gil.
Gil is dropped from enemies, found in chests and received by selling unwanted items or equipment. It is needed to use the Bribe command, or improve compatibility with Yojimbo. The Pilfer Gil and Nab Gil can also be used to steal gil from enemies.
Gil drops from enemies, is found in chests and is received by selling unwanted items or equipment. The Bribe command can be used to win battles and items in exchange of gil. It can be used for free from Lady Luck's reels commands and actually showers the party in gil if successful.
Gil is the standard currency of Vana'diel. Players begin with 10 gil. The most common way to obtain gil is by selling unwanted/unneeded items at the Auction House. Items can also be put up for sale in the players' Bazaar, or simply traded to other players for a mutually agreed upon price. Some players sell services, such as teleport and Raise, to other players in exchange for gil. It is dropped by beastmen and some Notorious Monsters when they are defeated. The amount dropped increases with the level of the enemy. It is usually a relatively small amount. When dropped from NMs, they have the potential to drop pretty decent amounts.
Treasure chests and coffers may contain gil upon being opened. Amount tends to increase based upon the level of the area it is found in. Thieves can Mug beastmen and some NMs for gil. Typically Mug yields insignificant amounts, although some NMs can potentially give a good few thousand. The higher the monster's level, the higher the possible amount that can be Mugged. BCNMs will have a gil reward when defeated, as will ENMs and some other battles of that type.
Some quests and missions have gil rewards. Missions can give very good gil rewards when the player reaches the higher ranks for the three main cities. Merchants will buy most items from players. This tends to be a very poor source of gil, although some "junk" items and other things can sometimes be sold to a merchant for as much or more than the Auction House. Completing any Fields of Valor or Grounds of Valor training regime awards gil upon completion. The gil awarded is equal to the amount of experience points gained.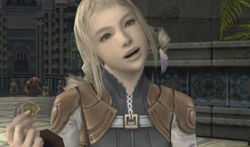 Gil is used for shop purchases, chocobo rentals, Gil Toss, and for spellcasting with the Turtleshell Choker.
Most gil is obtained by selling loot dropped and stolen from monsters. The value of the loot varies a lot. Often the most valuable loot is obtained by acquiring a large chain of monsters, or by purchasing the monograph for the monster genus in question. Monsters may also drop equipment that can be sold. Humanoid enemies, such as Archadian soldiers and bangaa, will drop small amounts of gil on defeat. This does not appear as loot but simply in the battle notification stream.
While usually in small amounts, gil can be found in various treasure caskets around the world. The amount will normally range from 10–300, but can be much larger due to the semi-random nature of chests.
Gil is rewarded for hunting marks and usually ranges in the thousands. A piece of loot is obtained usually from hunts which can be sold as well.
In the Zodiac versions, the Cat-ear Hood accessory turns the wearer's earned LP into gil.
Acquiring 100,000 gil adds Penelo's sprite to the Sky Pirate's Den, and awards the "Plunderer" trophy/achievement in The Zodiac Age. Additionally, spending 1,000,000 gil adds Gurdy's sprite and awards the "Spendthrift" trophy.
Gil is obtained after completing missions or by selling materials and weapons. Equipping the Golden Ring increases the amount of gil earned during battle by 25%.
While gil is not obtained after battle, it is acquired frequently in treasure spheres and from selling unneeded items, such as weapons and components. There are component items that exist solely for selling, such as Platinum Ingots. The Oretoise enemies, like the Adamantoise, give the best drops for selling. The Adamanchelids are easy to kill and can drop a Gold Dust that sells for 15,000 gil. The Adamantortoises and Adamantoises roaming the Archylte Steppe have a chance to drop a Platinum Ingot, which sells for 150,000 gil.
Gil is obtained after battle, at the Battle Results screen, unlike its predecessor. The Gilfinder abilities let the player obtain more money from monsters.
Gil is dropped by enemies after battle. As time passes, the base amount of gil that enemies drop increases. Starting on Day 7, enemies will drop 1.5x the normal amount of gil, twice the amount starting on Day 10, three times the amount on Day 13, and five times the amount on Day 14. On top of this multiplier, enemies drop triple the regular amount of gil on Hard difficulty.
Completing quests will usually reward Lightning with gil in addition to stat increases. Completing a quest that has already been finished in previous playthroughs will award 50% more gil than usual (the difficulty level does not affect these rewards).
Gil can be obtained by doing quests, guildleves, killing enemies in dungeons, selling items to NPCs, or on the Market Board. Gil appears as gold coins with Nymeia depicted on the obverse.[3]
An official currency symbol for gil appears, a "P" shaped symbol that appears to be a stylized, backwards "G".
Othard and Kugane use koban as their currency, but gil is used by players instead for gameplay purposes. Likewise, shops in the First also accept gil due to their standardization of the currency.
There are other currencies in the game, such as Company Seals, Allagan Tomestones, and Ixali Oaknots.
Gil is obtained by completing quests and selling items. There are treasures, which can be found in the world or obtained by defeating enemies, that exist mainly for selling. Vyv's quests in Lestallum reward solely gil. Doing hunts is often a good way of making gil, and they can be repeated. The player can also trade 400 QP from Timed Quests for 100,000 gil.
Gil carries over when using chapter select and New Game Plus.
Insomnia uses yen rather than gil. According to the quest description for "A Pauper Prince", gil is "the currency of choice outside Insomnia". When the party first enters the Hammerhead mini-mart, Prompto says "What's a 'gil'?" During Final Fantasy XV: Episode Ardyn, Ardyn Izunia spends yen at the shops around Insomnia.
According to Keycatrich's Almanac entry, the town flourished as an intercontinental trading post where the global currency (gil) was circulated while the town was still protected by the Wall. Various debased banknotes and coins are found as treasures, but what abandoned currency they represent is unknown. After the fall of the long night the world stops using gil for currency, although the player can still use the vending machines in Chapter 14 to buy things.
A standard currency called zell could be used to upgrade and reforge weapons. Zell dropped as a random reward from enemies and treasure chests shot in any stage, or it could be harvested at regular intervals from the player's zell tree, activated early in Chapter 1. The required interval increased with the tree's level, but the total reward and rate of growth also increased.
Gil is obtained after each battle. For storyline battle, the amount is fixed. For random encounter, the amount is varied by battle difficulty (monster level, type, amount, kind, etc). Gil also obtained from completing errands (after chapter 1). Gil can also obtained from selling loots and equipment gained from errands and battles. Gil is used to buy equipment, buy rumors in tavern, take part in errands and recruit new unit from Warrior's Guild.
Gil is primarily obtained as a reward for completing missions. The amount of gil that is obtained depends on the rank and level difficulty of the mission.

Monsters can drop gil as loot.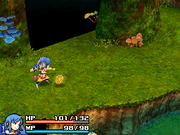 Monsters can drop gil as loot.
The player can obtain gil by helping people around the world, such as by saving them from rolling down a hill/staircase, by milking cows, harvesting vegetables, saving victims under rocks or ice, saving cows and goats from being abducted, or rescuing pilgrims from under the snow.
GP is won from enemies and received as a reward for clearing some Battlefields. GP cannot be acquired in other ways—no chests found contain GP and the player cannot sell items or equipment.
GP (sometimes called Lucre) are won from each enemy downed, but in relatively small amounts. Some enemies, such as Orcs, may drop sacks of gold dust that sell for 750 GP. Because inventory space is limited to 16 items in both the original game and the 2016 remake, it is best to sell gold dust as soon as possible.
GP can be acquired by defeating enemies in battle, or by selling items excessive items in the inventory, either gotten from treasure chests or item drops. Another way to get money is by using the Steal enemy ability which steals GP.
GP can only be acquired by defeating enemies in battle, or by selling items gotten from treasure chest or item drops. Another way to get money is by using the Steal enemy ability which steals GP equal to what the enemy drops when defeated.
G can be earned by selling Gems, shopkeeping in Urbeth, selling items dropped by enemies and some can be found in treasure chests. The player can usually generate money fast by opening a shop in Urbeth and buying things from local vendors and then selling it for profit.
Gil is used to make purchases of new items, usually from Moogle Shops.
Gil is primarily used to augment summons and relics alongside the materials dropped in battle. It may also be awarded as a regular item drop as well as a completion reward, at which point the former can be doubled or tripled with Books or Tomes of Fortune when applied prior to battle. If relics awarded via Lost Chapters were obtained in the events preceding them, such awards are converted to gil in their stead.
Gil is the currency used and can be used to purchase memoria for 5000 gil.
Gil is the currency used and can be obtained from opening treasure chests or as rewards from defeating monsters. It is required for enhancing or transmuting an ability, weapon or a summon stone.
Gil is the player's score for the leaderboards.
Gil is used in upgrading and combining equipment, as well as creating and honing abilities. It can be obtained as a Completion Reward for completing dungeons or as a random drop from defeated foes. The weeklong Gil Greenwood allows the player to amass larger amounts of gil.
Non-Final Fantasy guest appearances

[

]
Gil is the currency used within the Forsaken Dungeon, and it also costs gil to save the game.
Gil makes an appearance.
Etymology
[
]
According to Final Fantasy IV, the gil is named after the Gilbart family of Damcyan.[4]
References
[
]