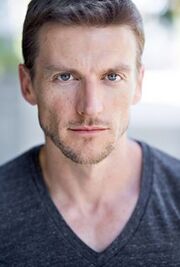 Gideon Emery (born 12 September, 1972) is an English actor and voice actor. He is the voice for Balthier in Final Fantasy XII and Final Fantasy Tactics: War of the Lions, and Urianger Augurelt in Final Fantasy XIV: A Realm Reborn.
Roles
[
]
Background
[
]
Balthier remains my favorite, simply because he was my first major role and was such a gift of a character. He's Han Solo meets James Bond. He's the role I'd love to play on-camera, but won't because I'm too charactery for Hollywood to see me that way.

Gideon Emery on his favorite voice performance.

[1]
Emery was unaware of the Final Fantasy series before his first audition for the part of Balthier in Final Fantasy XII. Upon hearing his voice, the game's English voice director Jack Fletcher thought him to be perfect for the role. The main challenge Emery had while approaching the role was trying to match the lip movements of the original Japanese animation. He also at first struggled with trying to make Balthier sound simultaneously arrogant and charming, but he ultimately feels that he did a good job.[2]
He considers the role of Balthier to be his favorite and his most famous. He enjoyed being able to use his own voice for the character and he has stated that it was the first performance he ever received fan-mail for.[3]
Outside of the series, Emery has provided voice work for over a hundred video games. His most famous roles include Fenris in Dragon Age II, Fergus Reid in Wolfenstein: The New Order, and Gideon in Call of Duty: Advanced Warfare for whom he also provided his likeness and motion capture.
External links
[
]
References
[
]