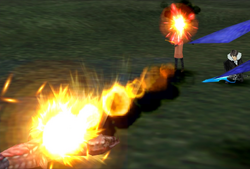 Gatling Gun (ガトリング砲, Gatoringu Hō?) is a recurring enemy ability in the series. It is often an attack of mechanical monsters and soldiers, and will often inflict non-elemental damage to a single target. It has been on an occasion a Blue Magic spell that the party is able to use.
Dr. Cid from Final Fantasy XII has a special Gatling Gun ability as a signature ability.
Appearances
[
]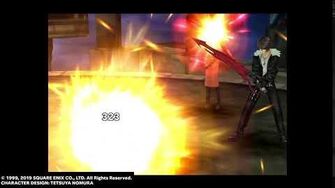 Gatling Gun is a Blue Magic spell that deals non-elemental damage to all enemies, and is learned by using a Running Fire item on Quistis. The item can be obtained by using the refinement ability Card Mod on a SAM08G card, which is dropped from Iron Giant, SAM08G, or BGH251F2, or mugging an SAM08G. It is also the only physical damaging spell that Quistis can learn. Its physical attack power differs depending on Crisis Levels.
Crisis Level 1: 60
Crisis Level 2: 80
Crisis Level 3: 100
Crisis Level 4: 120
Gatling Gun is an enemy ability used exclusively by the Crawler, which inflicts minor non-elemental damage, up to 4 hits, to random party members.
Gatling Gun is a special attack used only by the Machina Panzer, which deals 24 hits of minor non-elemental damage to random party members.
Gatling Gun is used by the Falco Velocycle enemy in Palumpolum. It deals extreme physical damage to a single target. It is devastating if the party does not have a Sentinel.
Gallery
[
]
Etymology
[
]
[view · edit · purge]The Gatling gun is one of the best-known early rapid-fire weapons and a forerunner of the modern machine gun named after its inventor Richard Gatling. The Gatling gun's operation centered on a cyclic multi-barrel design which facilitated cooling and synchronized the firing/reloading sequence. Each barrel fired a single shot when it reached a certain point in the cycle, after which it ejected the spent cartridge, loaded a new round, and allowed the barrel to cool allowing higher rates of fire without the barrel overheating.