Cid Pollendina
:
Oh, shut up and help me remodel the Gate (World of Final Fantasy) page!
Please expand this article into a full one. The following tasks need to be completed:This request can be discussed on the associated discussion page. Remove this notice upon completion.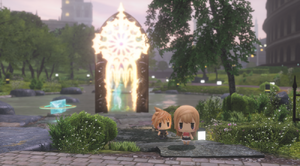 Gates are shining portals in World of Final Fantasy that allow the player to fast-travel to other locations. They appear in towns and at the beginning of dungeons and other significant locations.
Traveling to a location requires the use of the Main Gate, a giant Gate located in the Sylver Park of Nine Wood Hills. The Main Gate allows the player to travel one-way to any other Gates the player has already encountered in Grymoire. Interacting with a regular Gate gives the player the option to travel only back to Nine Wood Hills through the Main Gate, but they are also allowed the option to access the Prism Case as well.
With the update patch to Version 1.02, the player can fully recover their party's HP and AP by examining regular Gates, and in Version 1.03, the player can even save their progress, giving Gates a similar role to Save Crystals.
There are also Gates that emit a red aura called Exit Gates that only allow the player to return back to Nine Wood Hills and are usually found at the end of dungeons—and even at the beginning of bonus dungeons and other optional post-game locations.
Traveling through Gates is only possible though Tama's ability to control space. Therefore, if the player is separated from her, they will not be able to use them.
List of Gates
[
]
Gallery
[
]