The queen of storms, Garuda is the chosen primal of the Ixal. Though elegant of form and graceful in motion, the capricious and ruthless nature of this bloodthirsty being engenders mindless terror even amongst her devoted worshippers. Her wrath often erupts without warning, and descends upon her victims with unbridled fury.

Official Site description
Garuda is the primal of the Ixal beast-tribes in Final Fantasy XIV, also known as the Lady of the Vortex (嵐神, Ranshin?). She is encountered as a boss a number of times in both Legacy and Final Fantasy XIV: A Realm Reborn.
Garuda is fought as a boss three times at The Howling Eye: first time in the main scenario, then in a Hard version of a sidequest, and finally an optional Extreme battle. While the latter two versions are fought at level 50 with a full party of eight, the initial storyline fight is at level 44, with four players.
The Howling Eye (Hard) is required to restore a Relic Weapon, and the later main scenario quests starting from "Before the Fall" require it—along with The Navel (Hard) and The Bowl of Embers (Hard)—to have been previously completed.
Completing The Howling Eye (Extreme) is optional, and grants the achievement "Gone with the Wind" and "Mightier than the Vortex," the latter requiring a party of 8 blue mages, synced at level 50, and the echo turned off.
Garuda also appears as a mechanic in the fight against the Ultima Weapon, which uses her along with Titan and Ifrit to perform combination attacks. In both fights, she is the first primal to be ejected from the Weapon. She also appears during the last boss fight at Xelphatol to perform similar mechanics to her boss fight.
The Summoner job can summon Garuda-Egi as a ranged pet. It is unlocked along in the level 45 job quest "Austerities of Wind," upon defeating the Egi, who replaces Emerald Carbuncle.
Musical themes
Edit
Garuda's boss theme is "Fallen Angel". It has the following lyrics:
Now fall!
Falling too far from the light
Deeper into the night
Lost here inside my own hell
I am a broken angel
Other appearances
Edit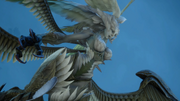 Garuda appears as a boss in the Final Fantasy XV x Final Fantasy XIV collaboration mission "Adventurer from Another World".

Garuda appears with a wind-elemental card.

Garuda appears on a Triple Triad card in the version playable via Final Fantasy Portal App.

Etymology
Edit
[view · edit · purge]Garuda is a large, birdlike creature that appears in both Hinduism and Buddhism. It serves as Lord Vishnu's mount and is the Hindu name for the constellation Aquila. Contemporary representations of Garuda are the brahminy kite and phoenix.
Community content is available under
CC-BY-SA
unless otherwise noted.