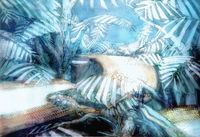 "The Gapra Whitewood"
"The Gapra Whitewood" (ガプラ樹林, Gapura Jurin?, lit. Gapra Forest) is a background theme from Final Fantasy XIII. It is an ambient theme, with female vocals and a relaxed piano and percussion background.
While the vocalist Mina Sakai and composer Masashi Hamauzu were preparing the demo track for "The Gapra Whitewood" Mina sang in English, as she had done for previous demo tracks recorded for the game, such as "Sulyya Springs" and "Will to Fight," but after receiving the final draft of the lyrics she was so preoccupied with getting the pronunciation and intonation right that she lost track of the flow of the melody. The lyrics were dropped and a fictitious language was employed to regain the feel of the previous songs.[1]
Game appearances
[
]
"Gapra Whitewood" is the background music for the treetop areas of its eponymous location. The lower sections of the Gapra Whitewood use "Tension in the Air". This change is fitting due to the serenity and beauty of the treetop areas in contrast to the caged monstrous wildlife of at the ground areas of the Gapra Whitewood.
The track can also be heard in the ruins portion of Lake Bresha.
An instrumental version of the song was released on the Original Soundtrack PLUS album. The liner notes to the album contain composer Masashi Hamauzu's comments on the track:
'The Gapra Whitewood' had actually been an instrumental song called 'Gapra Forest' until midway through development. We then made a second version with lyrics, and decided to use both. There were some twists and turns along the way, though, and this instrumental version never ended up being used.

Masashi Hamauzu
"Gapra Whitewood" plays during the Beginner's Primer summary for Chapter 5 and acts as the background theme for the Archylte Steppe Year Unknown during rainy weather.
"Gapra Whitewood" music plays between 6AM and 6PM in the Jagd Woods of the Wildlands.
"The Gapra Whitewood" is the eleventh track of the Memories of FFXIII, which is available by default in the music player.
"The Gapra Whitewood" appears as one of the Field Music Sequences for Final Fantasy XIII.
Arrangement album appearances
[
]
A solo piano version of the song is included on the album.
References
[
]