Sword given to a knight by a spirit of the lake.
Galatyn (ガラティーン, Garatīn?), or Galantine, is a recurring sword in the series.
Appearances
[
]
Galatyn is a great sword that provides 85 damage and 494 delay. It deals 10.32 damage per second and accumulates 134 TP per hit. It can be equipped by level 75 Warrior, Paladin, Dark Knight, and Rune Fencer.
Galatyn is a mid-ranked weapon for Basch, which provides in its base form 90 Attack, 45 Magic Attack, 60 Attack Speed, and is Water-elemental. It is forged with the Tempered in Ice recipe.
Galatyn is a
Gladiator's Arm for
Paladins. An Antiquated Galatyn can be acquired from the Paladin job quest

Raising the Sword, and then upgraded into Galatyn in the Forbidden Land, Eureka Anemos. Galatyn can in turn be upgraded into the Galatyn +1.
Galatyn

Gladiator's Arm
PLD Lv. 70
Item Level 335
Physical Damage: 98
Auto-attack: 73.17
Delay: 2.24
Eureka gear.


Strength +209
Vitality +220
Tenacity +193
Determination +135




Repair/Melding/Desynthesis:
Blacksmith
Dyeable: No
Unique
Untradeable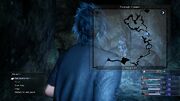 Gallant greatsword that cuts through thin air to find its mark. Calls forth the protective power of the Knightshield.

Description
Galatine is one of Noctis's Armiger swords. In the Final Fantasy XV Episode Duscae demo Galatyn is located in the Fociaugh Cavern, the southeast area of the map of Duscae. With the Galatine in Armiger mode, the player can use the Knightshield by holding

/

.

Galatyn is an artifact that increases Magic by 7.
Galantine is a low-ranked holy sword that provides 73 Attack, 20 Hit Rate, +3 Strength, +3 Wisdom, and is Holy-elemental.
Non-Final Fantasy appearances

[

]
Galatine is a spear that can be equipped by Santiago.
Gallery
[
]
Etymology
[
]
[view · edit · purge]Galatyn means "Gawain's sword" in Scotland.