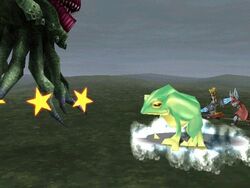 Amount of damage depends on the number of frogs you have caught.

Final Fantasy IX description
Frog Drop (カエルおとし, Kaeru Otoshi?) is a Blue Magic spell from Final Fantasy IX. It is exclusively available to Quina Quen.
Appearances
Edit
Frog Drop is one of the first Blue Magics available by eating a Gigan Toad. It costs 10 MP to cast.
The amount of damage that Frog Drop may do is as follows:
$ Damage = (Quina's Level) \times (Number of Frogs Caught) $
With this in mind, it is possible to easily get Frog Drop to deal 9,999 point of damage, making it one of the four strongest attacks in the game, tying with Zidane's Thievery, Beatrix and Steiner's Shock, and Freya's Dragon's Crest. If Quina has caught no frogs, the spell deals 1 HP damage.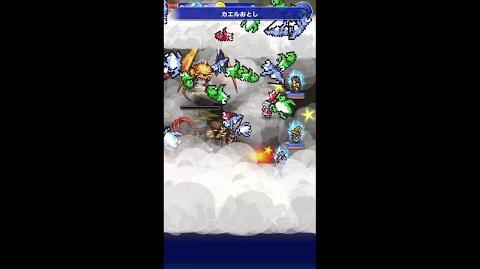 Frog Drop is Quina's Super Soul Breaks, learned from the Golden Hairpin (IX). It deals four physical attacks to all enemies, each dealing damage equal to 149% of a regular physical attack, and raises the party's ATK by 50% for 25 seconds. Upon mastering the Soul Break, Quina's ATK rises by 10.

Etymology
Edit
Frog Drop takes its name and design from the Chrono Trigger tech Frog Squash; both are written identically in Japanese. The ability in Chrono Trigger also involved summoning a giant frog to land on the enemies. In addition, the appearance of the frog that is summoned during the ability in Final Fantasy IX is similar to the Frog character from Chrono Trigger.
Community content is available under
CC-BY-SA
unless otherwise noted.