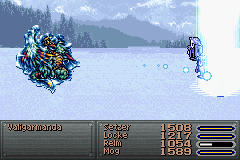 Frozen!
Freezing Dust (フリジングダスト, Furijingu Dasuto?), also known as Cold Dust, is a recurring enemy ability in the series. It often inflicts the Freeze or Stop status to one party member.
Appearances
[
]
Freezing Dust is an enemy ability used by Dragon, Naude, Zone Eater, Kamui, Lunatys, Muud Suud, InnoSent, Death Rider, Valigarmanda, Ice Dragon, Kaiser Dragon, and Omega Weapon. It inflicts the Frozen status on one party member at the cost of 20 MP. It is considered Ice-elemental but deals no damage, and is unblockable.
Freezing Dust is an enemy ice ability used by Pellinore and the Plumed Knight.
Gallery
[
]