The Fractal Continuum (Hard) is a dungeon in Final Fantasy XIV: Stormblood. It is one of the two Expert dungeons added in 4.2, the other being Hells' Lid.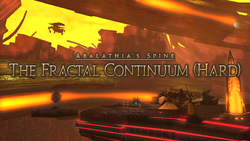 Arrive at the Reality Augmentation Bay: 0/1
Defeat Motherbit: 0/1
Arrive at Exhibit Level VIII: 0/1
Defeat the Ultima Warrior: 0/1
Arrive at the Genesis Engine: 0/1
Defeat the Ultima Beast: 0/1
Immortalized Predator
Prototype Claw
Servomechanical Minotaur
Servomechanical Chimera
Motherbit
Prototype Mirrorknight
Lone Shabti
Rinkhals
Prototype Empusa
Biomanufactured Naga
The Ultima Warrior
Biopellet
Proto-chimera
Biomanufactured Minotaur
Biomanufactured Brobinyak
The Ultima Beast
Community content is available under
CC-BY-SA
unless otherwise noted.