Dear administrators and other high ranked members of the staff,
I am writing here because I care for your Fandom for many years now. Although I've never participated in this incredible adventure, I noticed some pages like the fan project Dead Fantasy (I think that was its name).
It's been 16 years now since I started to create the perfect Final Fantasy Trading Card Game - one that easily surpasses the one they invented in 2013 - and now that the project is ending with a complete V7.5 design (yes, that much tries haha), I'm in the pure creation phase.
The card game itself is covering every Final Fantasy through every console - remakes includes. It's composed of 12 types of cards, each easily identified by its color and design. The game itself is divided in four different types of gameplay depending on which cards you want to use, and provides two sub-gameplays to please everybody.
Covering so many games promises hundreds of thousands of cards, as it covers all creatures, heroes, jobs, locations, summons, items and far more. Now you know why it took me 16 years to finally do it. The project has evolved a lot since its start.
It would have been my honor to be able to discuss whether this card game could be allowed to be posted here for fans to appreciate it, knowing the project shall eventually be presented to Square-Enix once it reaches its physical completion.
Many thanks for your help, I would be very grateful to all members of the staff who would take a little of their time to consider my request. Just know that I'm not used to forums and editing at all, I'm more of a designer, so just typing this message and using this very forum requires much skills from me XD
Waiting for your replies.
Kindest regards from a french designer and FF fan,
Valerama
Hi there - somehow we missed your message until now, and I apologize for that. You're welcome to put the project up in your userspace, but we cannot have a mainspace article about it until your work is covered by a third-party journalist or recognized by Square Enix. (Note that Dead Fantasy is covered by TVTropes and Joystiq and is mentioned on the Wikipedia article for Monty Oum.) Good luck with your project! Cat (meow ∙ hunt) 00:16, 2 July 2021 (UTC)

Dear Cat,
Please do not apologize I know you guys have a lot to do, it's really no big deal at all. On the contrary, I really appreciate the reply.
Many thanks for the help. I'm about to have the project covered by the french website FFDream, in a full interview article, in a few weeks. Would that cover be enough to pretend to edit it in mainspace or do you need something else ?
Once the article comes out, I'd be happy to share it with you, well at least for those who do speak french :)
Kindest regards,
Valerama

Dear Cat,
Yeah I can understand you're not familiar with our websites :) to make it short, I guess you could consider the four most popular Final Fantasy websites in France are FFWorld, FFDream, FFRing and Finaland. These are the four teams who are always covering the latest Square-Enix news, and also on-site interviews at every exhibit, events and game shows where Final Fantasy is represented in France (like the Tokyo Game Show, and the Paris Games Week which are major events for example). They also work together for podcasts, and always manage to have private interviews with the SE staff who visit Paris for the events. For example, the Finaland website interviewed Annie Roth and Nobuo Uematsu in their private hotel in Chicago the day before the Distant Worlds concert in 2012, FFRing got an interview of Naoki Yoshida in 2017 in Paris, the FFworld webmaster is the writer of the Third Editions book titled "La légende de Final Fantasy XV" in 2019, a series of books which is very famous in France, and so on. These are but mere examples of their cover of the subject.
Feel free to check their respective websites. I knew FFDream was particularly interested in fans projects and every week, they focus on projects they feel are a nice touch to the Square Enix universe. It is mostly about musical covers, but it can also include videos, podcasts and other medias. My card game attracted their attention immediatly due to the title, design, gameplay and storyline, plus the project itself is massive.
In addition, allow me to give you a sneak peak :)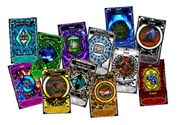 Kindest regards,
Valerama

Hello Cat,
I hope you're doing fine. did you have time to check some of th websites I mentionned in my previous post ? Also, I found the information that without the website FFDream, we would never have had the SOLDIER 1st Class garb for Final Fantasy XIII : Lightning Returns. I do hope this helps you regarding of how important this website is. Just let me know :)
Also, what did you think of the pictures I gave you ?
Kindest regards,
Valerama
Yeah, I've looked it over and talked with the other admins. FFDream is, indeed, a legitimate notable site. The pics look great too. This situation is a little unusual so there isn't some preset rule how to handle it. What we decided is that it's OK if you write an article about your TCG, but since you have a bit of a conflict of interest, you should write it in a Sandbox and let us know so we can look it over and make sure it was written neutrally. Once that's done we'll move it to mainspace. Cat (meow ∙ hunt) 14:45, 11 July 2021 (UTC)
Dear Cat,
That's amazing ! Allow me to thank you and all the other admins for your kind and fair decision. I totally understand your point and I'll do as you say regarding of the sandbox. I'll take some time to learn how this works because I may be good with design, I can also be a total newbie when it comes to computers haha. I'll let you know when the page is done so you can check it and help me with anything you'd find inappropriate or whatever you'd like me to change. This is a real honor for me, and I look forward the page's completion. In the meantime, I remain at your disposal should you need anything.
Kind regards,
Valerama.

Deat Cat, As promised allow me to link the article about my Final Fantasy TCG on the french website FFDream :
https://www.ffdream.com/articles/36628-the-crystal-card-game-le-tcg-dun-fan-de-ff
Sorry it's in french but I said I would share it with you and the rest of the admins. As for here, I'm still working on the sandbox pages for the project it takes some time. Once it's completed, I'll come back to you and provide you with the link also for you and the others to examine it :) Kind regards, Valerama
Dear Cat,
First of all, let me wish you and all the admins a happy new year :)
It's been a while since the last time I've been in touch. Much has happened ! The card game has evolved a bit more, I made progresses in its content and rules. I started to create the cards themselves, finished dealing with the playmats and the content of starter packs and decks, and at the same time I began working on audio chronicles on Youtube to strengthen the lore of the project.
Also I'm going to get married :) this took a lot of my time I must say, so I focused my attention a bit more on that than on the game itself for a couple of months.
Now I'm back and I believe the core of my page for the fandom is ready. Informations shall be added all the time of course, but the main page seems to be good. Of course I may be fluent in english, I'm not perfect so here, as promised I provide you with the link of the sandbox page. Could you please check it and tell me whether I have successfully avoided any conflict of interest or not. If that's not the case, please advise me so I can make the necessary modifications. I'm still a noobie at handling the fandom tools but I managed nonetheless.
I'm already working on other pages (for the gameplay, and the card collection) but this takes time of course.
https://sandbox.fandom.com/wiki/Final_Fantasy_:_The_Crystal_Card_Game
I'm very honored to share this project with you, the admins and also the community, and I feel very grateful for your support. I hope you're all doing very well. See you soon !
Valerama.

Hello Cat,
I do hope you're alright, since I had no news yet ...
I wanted to add that I'm currently working on the gameplay page as well, if you or any other admin want to check it at the same time, here's the link :
https://sandbox.fandom.com/wiki/Final_Fantasy_:_The_Crystal_Card_Game_gameplay
I hope all of you are doing fine and taking the greatest care of yourselves :)
Valerama.
Sorry, I've been really busy lately -- I'll try to get proposals in to bring this all into the wiki's scope/NPOV by the end of the week. Cat (meow ∙ hunt) 01:38, 23 January 2022 (UTC)
Hello Cat,
I prefer to hear you're busy than anthing has happened to you. I'm feeling better now that I know everything's good from your side. Do take the time you need to process with the pages, I know I can count on you. I'll keep updating the pages and the project, as I'm currently off work for a short period.
Valerama.