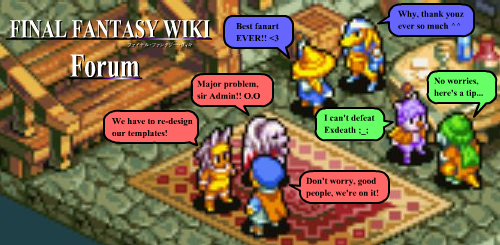 In what has got to certainly got to be the most novel addition to wikia, you can now enable achivements for your wiki. Read about it here:
Unlike so many other recent new additions, I'm not against this. For one thing, they didn't force it on us. Even if they did, I wouldn't mind because it's just some harmless fun that doesn't alter anything about the wiki (plus I love the concept of achievements and always welcome them being integrated into anything).
So yeah, little poll here. Shall we turn them on? Diablocon 21:23, August 4, 2010 (UTC)
Sure, why not?
Because we have failed to come up with a working award system. Having users recognize others for their work is awesome, but it's been tried and failed. People get lazy and don't look for great contributions, and don't nominate others for the awards we had. Because of that, right now the only means of recognition of great work on this wiki is to award one with modship, and even then, that's not saying much because of the nature of the position. There are plenty of users who deserve recognition for their hard work here, and sadly, will never get it. - +DeadlySlashSword+ 22:30, August 4, 2010 (UTC)
Breaking the habit of a lifetime, I know. Yes there will be people who will abuse the system, but if it encourages users to edit the wiki more often, then I'm all for it. Jeppo (Talk | contribs) 23:09, August 4, 2010 (UTC)
Because I like to brag. have my efforts rewarded with browser-slowing goodness. 死の騎士 23:39, August 4, 2010 (UTC)
I'm all for it, but I am pissed at whoever removed my Penny Arcade joke (you know the one). Exdeath64 20:04, August 5, 2010 (UTC)
Nah, it's fine.
Comments

If we go ahead with this, I'll start a new topic for achievement ideas and discussions.
If this goes ahead, I'd like to be in-charge of its execution and policing. I love the mainspace, I love mainspace edits, boom de ah da 2x
Wikia, actually coming up with a genuinely good idea? I didn't think they had it in them!
Likeacupcake - Never are we more free, than when we are confined to the realm of dreams.TALK - 04:36, August 5, 2010 (UTC)

I'm a bit unsure about this. I had a poke around, and the wikis that have adopted the idea seem to manage quite well, and I assume we can turn them off if worst comes to worst? But then, as others have said; it could become very competitive, and draw attention toward the awards rather than the wiki. I think it would be best to start of with a trial period (let's say a month) and see what effect it has, and we can take it from there.

Armageddon11 - Sind Sie das Essen? Nein, wir sind der Jäger!TALK - 11:51, August 5, 2010 (UTC)

Right reasons to edit the mainspace:

Because you want to, are able to, and/or enjoy doing so. Because you're bored. Because of peer pressure (everyone else is doing it). Because the wiki admins keep telling you to ("edit the mainspace DAMMIT!" and so forth).


Wrong reasons to edit the mainspace:

For rewards, respect or power. To prove that you're better than someone else. To damage something. To gain false trust so that you can cause anarchy at a later date. Because you think you will gain valuable life experince from doing so (HA!). Because you're bored.
I've come from a forum background, and I'm used to people being rewarded titles based on their post count. There were a few people that abused their post count to get a better title, but all in all it was, if anything, an incentive to contribute more to the forum and get a higher title.

For wikis, I can see the same thing happening. People would use the achievement system to contribute more to the wiki mainspace and filespace. You could argue that awards could raise competitiveness, but is that really a bad thing? The only winner would be the wiki. Besides, you could argue that people are competitive with their post count anyway.

True, you still get the odd fool who abuses the awards system to better their rank, but they always existed anyway, and they don't last on the wiki very long. You'll get people who want to better their rank, and people who won't be that bothered about it (like me), but all in all I think the pros outweigh the cons and that's why I think the achievements are a good idea.

Plus I have a good idea on what the awards could consist of.

Deadlyslashsword - +It takes disaster to learn a lesson, but you're going to make it through the darkest nights+TALK - 15:45, August 5, 2010 (UTC) - Some people betray and cause treason...we're gonna make everything alright.

Jeppo is correct on all counts, but playing off of that, is it so wrong to want to be recognized for the work we do here? No, it's not a paying job, it's volunteer work, but even volunteers in the real world get recognition. It would raise the morale of the editor even by a slightest amount to spur them on to edit more.

I trust in the fact that the users we have here won't abuse the system. At least, the ones who actually deserve recognition will not. Newer users will in fact most likely abuse the system, but that's nothing a few warnings and in dire casts, a short block can't fix...

In reiteration of Jeppo, in the end it's the wiki who wins, along with the hard working users. Let them have their day in the sun.

What constitutes as a "hard working user" though? I'm just going to use this as an example: I spent like, 45 minutes on the Rasler article, cropping and uploading new images and completely expanding/re-writing all the text there. Which, if edit count is the basis of this reward system, which would give me the same reward as hitting "undo revision" in a second. I already find the whole edit count thing dubious because some users put a lot of work into things, but their count will always be beat out by five comma additions from someone else. If the whole concept is "reward users for editing mainspace", then it isn't an even playing field.


And I'm

not

just saying this because I'd be like "guuuuys, I'm one of those people who wouldn't be on an even playing field!" I couldn't care less about gaining .jpgs telling me I've made 50 edits in the past 50 days or whatever, I'm just pointing out the inconsistency.
I support this basically for it to be a personal achievement of myself; seeing that the "Achievement" feature is like an automatic rewarding entity onto itself, and not the subjective judgment of wikia users - of which IMHO isn't entitled to judgment in the first place.

And this feature is customizable and policeable. Good faith in place, it shouldn't be hard to execute. Those who claim to not care about edit counts, wouldn't be bothered if the feature was in place, I think.
What you're saying is that you support this change because you would like to pat yourself in the back then.

The honest approval of the community towards a hard-working user should not be disregarded as "subjective judgement"; a lack of a formal system of qualification does not imply that objectiveness is all but gone. That's like saying that a person's experience on a matter, whether the former be extensive or not, is subjective and overall worthless because it is not possible to quantify experience.

Those that claim not to care for edit counts regularly mean that they do not judge a user's contribution to the Wiki based solely on the count figure. This does not mean that they disregard entirely said figure, so it is unfair to assume they would not care for a system that, at core, is completely opposed to what they think.
I agree with Likeacupcake's idea, we should give it a month or too, and have a revote then.
Like Jeppo, I came from a forum background. Unlike Jeppo, I was completely against postcount based ranks at every forum I was at. I was also against reputation based ranks. The thing is, postcount ranks mean people with the more posts meant they would have a sort of authority. And most of them would have elitist attitudes anyway. And it is normal for people to seek higher ranks so they'd post more. And then the spammers would post loads and be a higher rank than those who actually contribute to discussions.
But edits its even worse, since there is a far easier way to rank how important an editcount is. Although, that's subject to personal opinion.
I could get a 1000 edits extremely quickly. I could decide that we should have a consistency and that all "Weak against" and "Resistant to" sections of enemy articles should read "Nothing", not "None" or "N/A". That's one edit to at least half (far more than half in reality) of our enemy articles. Then, all our enemy articles have additional problems, which I will try to change at the same time, but then I'll realise I forgot to do something for about a tenth of the articles. We have surely over 3000 enemy articles. So I'm suggesting I could do 1650 edits just by doing that.
To get to my point, those 1650 mainspace edits don't actually mean anything individually. As one, they are a minor contribution to the wiki. If I were to give this a worth, I would give it 3, because of the effort. Write an article as in-depth as Limit (Final Fantasy VII) (sorry, I just know how good it is since I wrote it myself) and it takes potentially one edit (though in reality a bit more for things I remember to add). So if I were to give it to worth, I would give it about 3.
And I'm sure people would argue the article is more important than the enemy-article consistency.
So yeah, editcount is a silly way to award users.
And people who don't care about editcounts think it doesn't reflect the meaning of the contribution of their edits, or anyone elses, since editcounts don't reflect meaningfulness of edits, just the superfluous amount of times they've had to his "Save page". 88.108.109.23 19:31, August 5, 2010 (UTC)
Community content is available under
CC-BY-SA
unless otherwise noted.