Line 33:
Line 33:
 

#{{User:BlueHighwind/Sig}} 21:26, July 10, 2014 (UTC) - I AM THE EGGMAN.

 

#{{User:BlueHighwind/Sig}} 21:26, July 10, 2014 (UTC) - I AM THE EGGMAN.

 

#[[w:c:finalfantasy:User:Faethin|<font color="dimgray" face="minstrel" size="3">'''Fëasindë'''</font>]] <sup>[[w:c:finalfantasy:User talk: Faethin|<font color="black">''Peth''</font>]] </sup> 21:27, July 10, 2014 (UTC) I AM THE WALRUS

 

#[[w:c:finalfantasy:User:Faethin|<font color="dimgray" face="minstrel" size="3">'''Fëasindë'''</font>]] <sup>[[w:c:finalfantasy:User talk: Faethin|<font color="black">''Peth''</font>]] </sup> 21:27, July 10, 2014 (UTC) I AM THE WALRUS

 
+

#{{TA}} - Sure.

 
 
 

==Comments==

 

==Comments==
---
Revision as of 22:03, 10 July 2014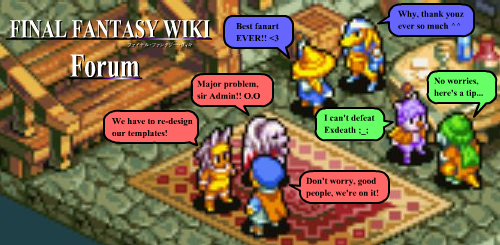 Users of the Final Fantasy Wiki! I, Technobliterator, am proud to announce that I will be hosting the reboot of the Let's Play project. The game, of course, will be Final Fantasy VII!
Thanks to Drake for the awesome trailer:
Template loop detected: Template:Video
Having talked with Scathe and several other users, I am going to reboot the Let's Play project by LPing VII. The reason I chose VII, other than having it on Steam and being able to easily record it with Fraps or something, is that VII is a game I think we can all agree that we can talk about for ages and, while some like it more than others, we're all fans in some way. The reason I chose to LP the project? Well, college is over, I have never been in an LP and would love to be in one, and any excuse to play VII again is an excuse I will take.
And there you have it! I hope I can get this started as soon as my cruise starts and is over in a couple weeks time. Til it starts, I will record as much gameplay footage as I can.--
Technobliterator TC 21:20, July 10, 2014 (UTC)
Process of recording
I think I will make a few changes to the process of LP recording.
Cloud storage
I'm going to start recording it. I will probably post the footage I record on Google Drive or Dropbox. This way, if I ever need to take a break from the LPing, the project does not have to stop. I can give it to someone else to host for a couple weeks.
Teams of LPers
The team selection shouldn't be random, and day selection shouldn't be fixed either. I plan on selecting teams based on how well the users blend together (hopefully we have no user in there who is silent most of the time) and on a certain point in the game. This is not a strict selection by any means. It's just to hopefully improve the overall quality.
Hangouts
I suggest using Google Hangouts. Why? This way, it avoids the hassle of using whatever was used before. A Google Hangout can be recorded as is. It also allows the people involved to view a YouTube video straight in the Hangout, and upload that Hangout straight to YouTube. It's very easy to join too. This might help things.
Signups
Sign your username here if you wish to participate.
-- Technobliterator TC 21:20, July 10, 2014 (UTC)
T·A·C·T·I·C·A·N·G·E·L - Sure.
Comments
Leave general comments here.
I'm skeptical about this idea. Sure, FFVII LP might be finished due to its popularity and maybe few others, but after some time when another project will pop up it will die in the middle, like the FFX one. The only reason I see doing the revival is making some kind of break between LP, month or two maybe, so it could calm down. Still, since I'm about at the end of the game, I might as well sign up, but that depends if I'll have time and opportunity.—Kaimi (999,999 CP/5 TP) ∙ 21:31, July 10, 2014 (UTC)
Don't worry about that. The way I'm doing it, any other user can easily take over from me using my footage at any point if they so wish. Also, Drake has his own "break LP" idea in mind, it should be alright.
I understand your skepticism. These are issues I've considered and I can hopefully avoid. :P-- Technobliterator TC 21:34, July 10, 2014 (UTC)
Community content is available under
CC-BY-SA
unless otherwise noted.