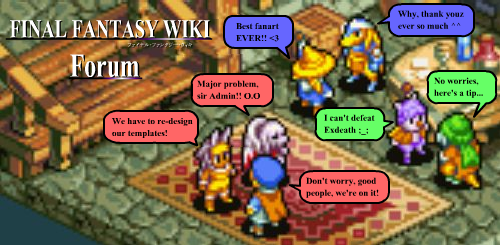 Would like to know which games in the series are canon. Yes, I am new to the Final Fantasy Franchise.

Considering no game, with the exception of the sequels of X and XIII, is connected to the plot or universe of the others, I don't quite understand what you mean by what games being canon.

B

lue

H

ighwind

Q?

02:43, January 20, 2016 (UTC)

TALK

- So if you care to find me, look to the Western Sky!

ツ

:

Any Final Fantasy game published by Square Enix is canon immediately. However most of the games take place in entirely separate universes, so the canoncity of FFII versus FFVII is really an irrelevant question. The is not a single grand Final Fantasy canon as in Star Wars or whatever.

To add: each of the game has a separate continuity entirely, so Final Fantasy X is not a sequel to Final Fantasy IX, but Final Fantasy X-2 is a sequel to Final Fantasy X, because they don't take place in the same universe. Just similar universes with shared themes.

Each main FF entry is set in a different universe, so they are canon in and of themselves. The only issues of canonicity probably exist with crossover games like Dissidia and FFRK where characters from each of those universes meet one another. Those types of games are generally not regarded as canon to the original.
There are alternate realities where all of the Final Fantasy games are real but television doesn't exist on the Final Fantasy VII planet in any of those alternate realities since television is an Earth invention only and it's unlikely that people in the Final Fantasy worlds could ever create such a thing. Many Worlds Interpretation is proof I am right. I am serious. For example, in the alternate realities where Final Fantasy VII is real, they don't have Televisions in that world ever, however they do read books and the whole Rufus march wasn't about Television ratings in that reality (since in every reality where Final Fantasy VII is real television doesn't exist on the Final Fantasy VII planet unlike how it is portrayed in the games) but about crowd watching parade in person ratings. I am dead serious and this is true. ——Preceding unsigned comment was added by 65.155.17.202 (talk • contribs). Please sign your posts with ~~~~.
Can someone explain to me what sort of gibberish did I just read? Every game is canon for the universe where that game is set and, with few exceptions (e.g. X/X-2 having minor connection to VII) do not affect any other universe. And btw, isn't this a Necro?--Kruggov (talk) 12:42, July 13, 2019 (UTC)
Community content is available under
CC-BY-SA
unless otherwise noted.