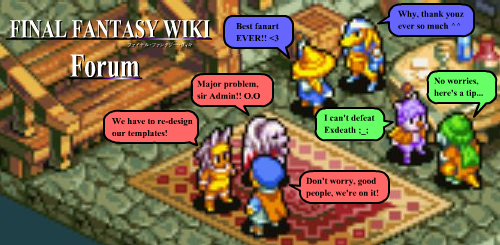 Template:TalkTextTest2


Krystal Tomlin

 - "When prayers turn to promises, not even fate can stand in our way."

TALK

- 18:52, 24 May 2009 (UTC) - "Wouldn't wanna be you!"

Steve Burton as Cloud Strife. End of story.

Heath Leger would of made a DAMN good Kefka. Exdeath64 00:03, 25 May 2009 (UTC)
 Template:TalkTextTest2


JudgeMasterKefka

 - "Warning: Cigarettes can kill... so can paper clips."

TALK

- 03:12, 27 May 2009 (UTC)

Mr. T is the real life Barret.

This is going to sound WAY worse then I mean it. But have you noticed that 1. There have been VERY few minority characters. And 2. 2 of the most prominent ones have been based off of REALLY crappy celebrities? I just find this a tad strange... Exdeath64 04:38, 27 May 2009 (UTC)
Oh, almost forgot, you know the guy who played "L" in the death note movie? He would make a good squall, simply due to the emo-ness? (Is there actually a word for that, I loathe using hyphens.)Exdeath64 04:43, 27 May 2009 (UTC)

Yeah but kenichi and squall don't look alike.
P.S. emo-ness Should definitely be in the dictionary.

I meant personality-wise. But it would not take that much work to make him look a LITTLE like him. Exdeath64 02:08, 28 May 2009 (UTC)

Liam Neeson does a good job at being that middle aged/father figure, big, wise person like Galuf, Auron and Reddas. Jeremy Irons will do the older, but more enigmatic characters like Gestahl and Kate Blanchett works for the cold Ultimecia, or an older version of Ashe, or Scarlett of FFVII.

Here are my picks:

Selphie: Miley Cyrus

Sabin: The Russian from Rocky IV

Lulu: Jennifer Love Hewitt

Yuffie: Cristy Calrson Romano

Rinoa: Kristen Adams.
Template:TalkTextTest2


Bruce Willis as Cid Highwind. Had to be said. Also- Michael Palin/Eric Idle as random guards eg in Rabanastre, or Lindblum, for a little comic relief.

And Yeah, Heath Ledger would make a good Kefka (although it would be an identical role to The Dark Knight. Maybe Jack Nicholson...)

Maria as Celes No but sereusly what if they did make a live action FF movie. I WILL NOT PLAY A WHORED OUT FRANCHISE.

I'm sorry for that outburst.
I'm sure that I'd freak out if someone plays Montblanc in a live action movie. He'd probably be computer animated anyways like the talking animals at Narnia.

Hugh Jackman will do a good Basch, or Vossler, or other tough guys who is poetic and all. I'd kill to see a "Yippe Ki Yay, Motherfucker"-ing Galuf or Cid Highwind. Javier Bardem could play a fuckingly awesome Shadow, or other scary, shady guys who can look scary while looking normal at the same time. No Country for Old Men can prove this. It's pretty hard to make a Final Fantasy film, because until IX, the characters have lousy personalities.
Agreed, it would just ruin it. If you take a video game and turn it into a movie, or vice versa. The new item will probably be utterly lousy, Advent Children being pretty much the only exception. (This INCLUDES resident evil, and if the castlevania movie had gone through, probably that too, thank you writers strike!)

Rutger Hauer would have made a good Seifer- he's the villainous replicant in Blade Runner (check it out). I suppose David Bowie could play a couple of characters- check my userpage for my proof of his presence in different games. Maybe Alan Rickman (Hans Gruber in Die Hard, Sheriff Of Nottingham in Robin Hood:Prince Of Thieves) would make a decent believable political villain, such as President Shinra or Deling. However, I would wonder whether the supposed movie would be a copy of the game's original plot, or a sequel/prequel to it, or even an original plot altogether. The two films so far have been an original plot (Spirits Within) and a direct sequel (FFVII:AC). Square should try and learn from previous mistakes.

(Trail Of Thought...) Hmmm...Alan Rickman as President Shinra, with Bruce Willis as Cid Highwind. set in Shinra Building in Midgar... Maybe set around Christmas Time...A hostage situation, perhaps...This has potential, especially if there's a few explosions, gunfights and chases in vents/elevantor shafts. I'm pretty sure I've heard or seen a film a bit like this idea, though...
I'd be pretty damn wary of a live-action Final Fantasy movie, but if it absolutely had to happen, I'd want Clint Eastwood to play Auron, Angelina Jolie to play Lulu and Miley Cyrus to play Rikku. I'm not too sure about Wakka and Tidus. If they made a movie of FFVI, a young Audrey Hepburn would have made a good Terra. Nevanus 23:50, 15 June 2009 (UTC)
Community content is available under
CC-BY-SA
unless otherwise noted.