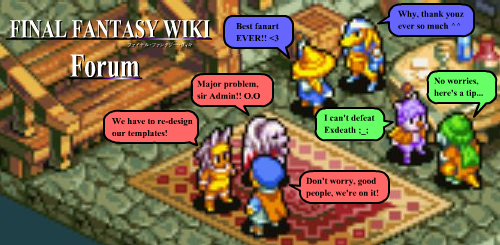 8bit BlackMage - Beyond the SkyTALK - Why do chemists call helium, curium, and barium 'the medical elements'? Because, if you can't 'helium' or 'curium', you... um... ._.; - 05:53, 9 June 2009 (UTC)

Comrade Faethin and I have noticed the debate over using certain epithets to name characters on our pages, such as the now de re-titled Marcel Funebris. Thanks to users for pointing out the discrepancies and kind of providing a catalyst for this proposal, by raising issues on the Confessor's, Fiona's, and other character's talk pages. (ILHI is proud now XD)

I have a few suggestions as to how we may sort this out, revolving around sorting names by types of titles.

Final Fantasy Tactics characters keep their formal titles. There is a log in the game that clearly defines each character and lists them with their full name and title.
Judges keep their title. We are not naming Judge Gabranth <SPOILERZ!!!> "Noah fon Ronsenburg", nor the crazy dual-sword guy simply "Bergan", nor Judgemaster Cid simply "Cid". These two rules (and perhaps more that can be thought of later) take precedence over the next and rather large mandate:
Miscellaneous titles, particularly those that are derived from royalty that change titles over the course of the game, are removed. This means no Princess in Princess Sara, no Queen in Queen Brahne Alexandros. As an example, the latter would be moved to "Brahne Raza Alexandros XVI". General Beatrix is kind of difficult to determine, not sure on that.
If we do use a title that falls outside these boundaries, we need to make sure it is used more often than not when referring to characters. Again, Beatrix somewhat makes this rule murky.

Please add any comments or possible additions to this proposal.

I am happy to see a decision. Before ILHI and I shout, "Take it to the MoS!" I would request that #4's "more often than not" be a phrase at least closer to "always." My opinion is that we need the rules to be as close to Boolean (all or nought) as possible.
Template:ILHI

...This may be a bit crazy, but how about...

Leave Judge Gabranth as he normally is and make a new article about "Noah fon Ronsenburg" from before he was known as Judge Gabranth. This is like Wikipedia having seperate articles for Anakin Skywalker and Darth Vader.
But the Noah article would be very, very, short. Keep it as it is.

8bit BlackMage - Beyond the SkyTALK - Why do chemists call helium, curium, and barium 'the medical elements'? Because, if you can't 'helium' or 'curium', you... um... ._.; - 18:41, 9 June 2009 (UTC)

I am not sure about XII Judges using their surnames in their titles. Noah fon Ronsenburg picked "Gabranth" because it was his mother's maiden name and he wished to leave his past behind. This is kind of a surname.... as for Zargabaath, Drace, and the others, I don't know. Ultimania anyone?

@ILHI: I don't understand your analogy between Golbez and Gabranth. If we remove "Judge" and leave "Gabranth", his real name is still hidden. We have nothing to move Golbez to but "Theodor Harvey", because he has not been given a title such as "Dark Chancellor Golbez".

I actually kind of like the idea of taking away Loire and Kramer from Raine and Edea. This means Garnet gets to keep her title and there won't be any musings about moving her to Dagger :D

Back on the titling issue and Rule #4: When some titles are used to indicate an honorable position, superiors, inferiors, and enemies may choose if they wish to sue the title or not. Brahne does not bother calling her most famous knight "

General

Beatrix", but lower soldiers do, and the protagonists somewhat on and off.
Template:ILHI