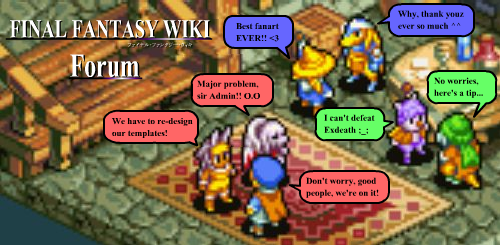 Well, I've finally gotten word from all the admins so I can finally go ahead with this. Recently Bluer left and had the Wikia staff remove his admin powers, thus leaving us an admin down. Now we need a replacement. However, remember a few things:
Sign your votes like so: # (Reasons for vote) ~~~~. Votes in talk bubbles will be removed. In fact, completely refrain from using talk bubbles in this topic.
This isn't a popularity contest. Choose the user who you think would be most responsible as an admin with your reasons.
Voting will be over on Monday the 6th of April. When all is done, I will use the data to pick our next admin.
Because of all the things Fae has done to the music pages, I'll go with him. --

J

udge

Z

arbi

•

TALK

•

12:41, 03 April 2009

Yeah, I agree with that, plus the work done in the Etymology section is really helpful, as not that many people write in that particular section. Captain Darkblade 12:59, 3 April 2009 (UTC)
After seeing their contributions, it's a tough choice indeed... But I'll vote for Senor Bard. ^^ - SilverSummonerTaLk 13:21, 3 April 2009 (UTC)
This was a really tough decision. I'd like to think you're all equally devoted to this wiki - It's just a matter of I think Faeth is better suited to be an admin. - +DeadlySlashSword+ 14:21, 3 April 2009 (UTC)
From what I've seen, Fae is very helpful and knowledgeable, yet doesn't assert superiority. Prefekt. //masterConjurer (Talk)

_

14:31, 3 April 2009 (UTC)
I've been stuck between Fae and Yuan for days, and I'd give anything to vote fer both. o_o Not saying that 8bit doesn't have potential, of course he does. I give my vote to all three of you. :D Template:BfDsig
I think Fae and Yuan are great editors, but Fae just seems like admin material (no offense Yuan) Cloudofdarkness was [| here]
I like his name :) FinalFantasyfreak
He seems like he has done the least here out of the canidates, so I mst vote for him. Why Me?
He always so nice to everyone.

BlueLionheart

(

T

/

C

) 21:51, 3 April 2009 (UTC)
Faethin has always been an great editor, and seems dedicated to always get his job done. When he puts information on the site, he knows it's right, and that's saying something, because he doesn't always focus on things that are explained in the games. He's always there to lend a helping hand, and unlike a lot of the users on the wiki, he doesn't feel the need to be a sarcastic jerk to try to be popular. DrakemasterDrake 22:25, 3 April 2009 (UTC)
I vote Faethin because he is one of the nicest on the IRC. (Sorry Yuanchosaan, I hope we can still become friends though) -- Xelazu
I like Ike, er, Faethin HiyaWikia 01:24, 4 April 2009 (UTC)
Because I know that Fae can take the responsibility. Hexed 05:29, 4 April 2009 (UTC)
I haven't been around terribly regularly for a while, but from what I know of these users, I feel all of them would do a good job, but I think Faethin would be the best. --Mymindislost 05:43, 4 April 2009 (UTC)
Because this is about who you think is most qualified to be a sysop, not who has been nicer to you or who you like moar... And of the three, because of his more sporadic times of being active and because he most likely always has a tab open with the FFWiki (considering he's also almost always on the IRC), Faethin has the highest probability of already being on the Wiki if there's a vandal strike (so he can prevent it from escalating) and he is likely to respond sooner to protect/delete requests. These are among the things you should be considering when you cast your vote, cause while I lubz<3 the other two users as much as the next guy/girl, this isn't a popularity contest... --Hecko X 13:07, 4 April 2009 (UTC)
I would love to be an admin, and I admit that it's very hard to do this, and that there's some selfish part of me whacking me with a hammer right now. But Faethin would be a better administrator. The main reason why we need a new admin is because Bluer left. It makes sense that the person who should become the next admin should be able to help Diablo on this wiki with the degree of skill that Bluer did. That being said, Fae has the markup skills and experience on the wiki I do not have. Um... I really can't think of anything else to say, except that I want to stress that the good thing about all of this is that all three nominees and Diablo have good relationships with each other, and I hope I can speak for them when I say that there will be no respect lost between us no matter what the aftermath is. I would ask that everyone who has voted in this poll think about that. 8bit 00:38, 5 April 2009 (UTC)
Faethin was the close second. Sorry 8bit, but Faethin is one of the users I think gots what it takes, he has been imporving the wiki for a while now and....yeah. Sorry for the vague reasonings.--Otherarrow 00:41, 5 April 2009 (UTC)
Faethin gets my vote because c'mon he's faethin. The King of the Loveless
'Cause Yuan's out. Kuzlalala 06:38, 5 April 2009 (UTC)