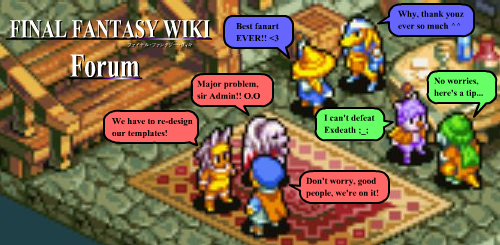 Forums:
Index
>
The Blackjack
>
Archive
> The best weapon in final fantasy history,not just stats but looks as well as hoe cool its name is
personally i believe it to be squall's starting gunblade,just because of the simplicity and the perfect blending of a gun and sword.after this weapon squall's blades become even more and more unbelievable,but this weapon is believable and could possibly become part of our globes arsenal of death dealing devices.plus in 8 the weapons stats dont change much because all i do is equip squall with 100 meteors to str and without pulling the trigger(pressing r at the moment of striking an enemy)and he was dealing 9999 damage when i was level 56,and u can use other strong spells,for the majority of the game i was using firagas and doing roughly 8560 damage at level 40 and by pulling the trigger 9999,that's why squall's starting weapon is ffs best weapon.plus i think its name souds cool,gunblade(soz bout not remembering its true name but i do play other games as well,like dragonquest,dragonball and dmc)

Pikmin Master

 - No matter my strength, I will still be loyal!

TALK

- 20:10, January 18, 2013 (UTC)

...What? Sorry. I can't read this due to this horrible grammar.