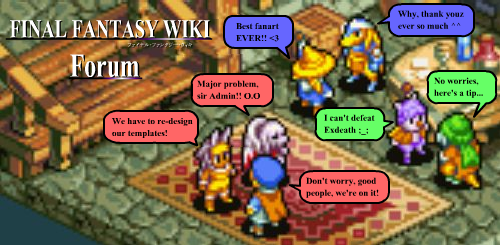 Poliwirl100

 - "I am the chosen one. I have been chosen to be the leader of this Planet."

TALK

- "Tell me what it is you charish most. Give me the pleasure of taking it away." Poliwirl100 02:51, 20 April 2009 (UTC)

Yeah I have that game now and was just wondering two questions about the secret characters

1. Who are they?

2. How do I get them?

I was just wondering because getting them might help me later on
| | |
| --- | --- |
| | TenzaZangetsu 17,957 20 April 2009 (UTC)  -   "I brough you back from hell, I can take you back there.": |
Can you really call luso a secret character? because you have to go through the place hes in to get farther in the story at some point.

Nah, you meet Luso during the story and he's unavoidable. The rest of the characters can only be obtained in Chapter 4, and various articles on the wiki can tell you how... 'cause we all know mainspace is more useful than forumspace. =/
TenzaZangetsu 17,957 21 April 2009 (UTC)  -   "If you don't know, then I will show you. This is the true form of despair.":

Well, you both right, you can search on the mainspace but they lack the specific information, something that I have when it comes to FFT.

I'll help, if its ok. You have to keep Mustadio in your party, or you cant get a majority of secret characters.

Beowulf: The earliest you can get him is before battling Elmdore in Chapter 4. Go to Goug (you must have Mustadio in your party) and view a scene. Then go to Gollund and complete the missions "Coal Mining Wanted," and "More Coal Mining Wanted." Then read the rumour "The Haunted Mine." After all this, go to Lesalia and view the scene, and accept Beowulf's offer. Then return to Gollund and go through a mission with 4-battles. After beating the last one, you will be given a new Zodiac Stone and Beowulf will join you.

Reis (Dragon): Joins with Beowulf.

Construct 8: After helping Beowulf (whether he or Reis join you or not), return to Goug and watch the scene, Construct 8 will join you.

Reis (Human): Go to Zeltennia and read the rumour "The Cursed Isle of Nelveska," then go to the new area, Nelveska Temple, and defear Contruct 7. If both Beowulf and Reis are in your party, Reis will be turned into a human, and can be re-admitted to your party (you lose Dragon Reis, though)

Cloud: Go back to Goug and view the scene. If you have the Zodiac stone from Nelveska, Cloud will be summoned and he will run off. Continue the story until you beat Adramellech, then go to Sal Ghidos and buy a flower from the Aeris Armadillo Aerith look-alike if you havent already (you must buy the flower to get cloud.) Then, when you try to leave, Cloud will attempt to rescue the flower girl from thugs, and you must fight in a battle. Win, and Cloud joins you (note: he is level one and has no equipment, and is nearly useless until you find the Materia Blade)

Balthier: After beating Zalmour, go to Gariland and read "A Rash of Thefts," then go to Dorter and read "A Call for Guards." When you try to leave, a scene will play and you will enter a battle. After winning, Balthier will join you.

Byblos

: Just beat Midlight's Deep's final level with him alive, pretty easy since he rarely gets into range of deadly attacks before you win.
Community content is available under
CC-BY-SA
unless otherwise noted.