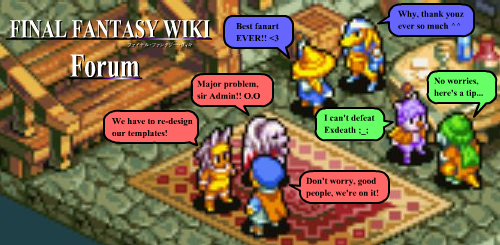 Hey, guys! Following on from Kaimi's talk page, one thing we really need addressed on the wiki is summon pages. If you go both to pages like Eidolon (Final Fantasy XIII) and individual summon pages like Shiva, they're ridiculously huge and all need splitting. In the pre-VI games, summons were just a fancier-looking ability that were similar to any Black Magic spell, so it may have made sense that they were treated as abilities. However, summons since those games have had far bigger roles in terms of both lore and gameplay. To this point, I'd say summon pages easily warrant as much content as an NPC's page.

What I propose is that we make pages for summons by game when appropriate. We could give them infoboxes similar to the Character infobox. This would be done in the following ways:

Ifrit (Final Fantasy VI) covers his appearance, his lore (ie when he was achieved), his summon as an Esper and his Magicite, links to his boss page, while he is still found on both the Esper (Final Fantasy VI) and Magicite (Final Fantasy VI) pages.
Shiva (Final Fantasy VIII) covers her stats, naturally learned abilities, and Triple Triad card, while she is still found on the Guardian Force page.
Ramuh (Final Fantasy IX) may only be able to cover his ability in gameplay, but there is plenty of lore for him and several images that could be useful on his pages.
Bahamut (Final Fantasy X) covers his stats, links to his two boss pages, while still on the Aeon page.
Odin in Airborne Brigade or Record Keeper doesn't get a page, the game has no real lore, the sprite comes from another game anyway, it's worthless to give him a page.

These could go in game navboxes under Characters

or

under Gameplay. Basically, this means less ridiculously bloated pages and helps readers a lot. Thoughts?
I agree with most of it, but would prefer for the summons to go under the "Characters" section in navboxes.—Kaimi (999,999 CP/5 TP) ∙ 08:54, October 31, 2016 (UTC)

Sure, I think they should go under "Characters" as well.--

Technobliterator

T

C

09:48, October 31, 2016 (UTC)
Many years ago we merged the summon pages into one page. It's pretty clear at this point that they need to be split again at this point. We should really treat summon pages like we treat any other reoccurring character page; short paragraph overview that links to a more detailed page. We should probably have a more hard and fast rule about splitting summon pages. What exactly warrants a split? I would say if the summon give significant gameplay changes. In practice, this means they have a large table that we need to put on the page. Basically, this is means not 3-5 and not 7, but every other main series game. We could probably phrase this more officially at a different point, but it's a good thing to think about. ScatheMote 17:48, October 31, 2016 (UTC)
Community content is available under
CC-BY-SA
unless otherwise noted.