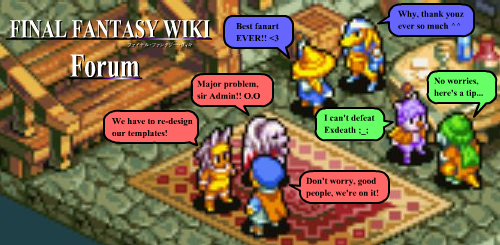 TacticAngel TALK
18:17, August 19, 2012 (UTC)
Hello everyone,

After our rather interesting and length discussion regarding staff member contributions, I will be modifying the rights of the following users: Jimcloud, Sorceror Nobody, and SomeColorMage. Thank you for everyone who participated in the discussion or who provided their feedback directly to me through e-mail.

I should give an honorable mention to Espritduo. His contributions are notable, and I particularly appreciate his work on FFXI articles and imagery, but it would be a little quick at this point to promote him. I will be watching him and if this trend continues, he would be an excellent addition.
ScatheMote needs more bcrat.
What I could see from the staff discussion is that people wanted or understood benefits of having an active bcrat.
And also what I took away was most people would favour ScatheMote for such a position. 79.69.216.205 20:19, August 19, 2012 (UTC)

Catuse

says

at 21:03, August 19, 2012 (UTC) "Somewhere a

zealous god

threads these strings

between the clouds

and the earth, preparing for a

symphony it fears impossible to play

. And so it threads on, and on, delaying the

raise of the conductor's baton

."

Excellent, glad to see stuff getting done around here. Thanks Tactic.

A much more serious and pressing matter (lies) is staff portraits. Now, there was some agreement on IRC about replacing Diablocon's Rosa with Yang, and then making Mymindislost Rosa and Jimcloud Rydia, like so:

Just going to drop by and say the tables are sorted. We just need the promotion reasons filling in (by TA, I guess, or perhaps Scathe or one of our other sysops).
Community content is available under
CC-BY-SA
unless otherwise noted.