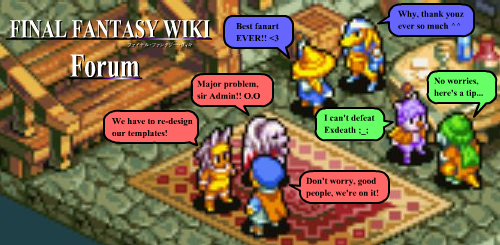 I was going to start this forum before I begin rewriting lore sections on pages, but since many people are expanding this content for FFXIV, FFVII, and other games, I figured I'd start the thread now. Basically, I think that we should rethink the "Story" sections to be less "list of accounts of things that happen in the games", and more "describing the lore of the game in-canon".

The tl;dr of the proposed changes:

"Story" will be renamed "History", and where appropriate, will use in-universe subheader names rather than the names of the games. The first is to reflect the proposed change: "Story" is just an account of what happens, "History" is an account of events. This doesn't apply to game pages, or to chapter pages and other cases where you would still be using it to describe events, but does for other instances. The latter thing for in-universe subheaders is already the case for FFVII content, though it may not be needed elsewhere except for when events overlap.
The sections should be written in past-tense rather than present tense. The idea behind present tense is so readers can see what happens when playing the game "presently", but in the proposed change we'd be describing canonical accounts instead, so this just reflects the change.
Remove spoiler tags. In my view, these serve no purpose other than limiting the scope of written content. Although you'd obviously not include blatant spoilers in the lede or in gameplay sections, the spoiler tags don't actually do much for the reader other than state the obvious: if you're reading a history section on a wiki, obviously you will be spoiled.
Article Layout Guide and Manual of Style can be rewritten to account for this.

Firstly, I would like to propose renaming "Story" to "History". In my view, these sections serve the reader far better if they are used to detail events that chronologically take place in-universe than if they just detail what happens to the player while playing the game. To reflect that change, we would use the name "History" instead, as in, the "History" of Cloud Strife in FFVII's world, rather than the "Story" of Cloud Strife when playing the game. This would not apply to game pages, or chapter pages, but would apply to pages for characters, locations, events, organizations, and other lore-focused pages.

On these sections, it is better to use in-universe subheader names where events overlap. This is already done for a lot of FFVII pages, but is an unwritten rule. Basically: for a lot of games, the events overlap, and it doesn't make sense to use a header for what the game is called. If we are describing the events in-universe, then in-universe names make more logical sense for a structure. However, in cases where events do not overlap, this wouldn't be needed. i.e. The headers "Final Fantasy X" and "Final Fantasy X-2" can still be used.

The next major thing I'd like to discuss is rewriting the new "History" sections in past tense. Present tense is currently used in the sections because the idea is that they describe the events as they occur "presently" in the game. If we are describing the events in-universe, which I think is the better approach, then we would no longer need to do this. I think it makes more sense for the readers: any events that take place before the game and are thus considered historical events do not make sense to describe in present-tense from this perspective, so this could easily lead to a blend of two totally different tenses. It just seems like a logical way to structure these pages.

Finally, I propose overhauling the Spoiler Policy, and removing spoiler tags. These tags may exist to serve as a courtesy for readers, but in reality, they accomplish very little. Firstly, it is well accepted by this point that if you go to a wiki, you will find spoilers (the name "wiki" is practically synonymous with "this site has spoilers if you look in the wrong place). Secondly, the spoiler tags don't actually help avoid spoilers: if I'm playing FFX-2, the events of the original FFX are not spoilers. Seeing a spoiler tag hasn't helped me avoid spoilers for the game, but seeing where Final Fantasy X-2 content starts will help me know where not to read. More likely I'd just avoid "History" sections entirely, as I would do on any other wiki that does not have such a policy, but if I need to find info from FFX, the spoiler tag doesn't help me avoid info from FFX-2.

Finally, and perhaps more importantly, spoiler tags greatly limit the scope of a lot of our articles. The "Profile" sections on character pages are a great example of this. To describe a character's abilities, personality, and even part of their appearance, is basically impossible without pointing to examples in-game that showcase these things. On Kefka Palazzo (THE BEST CHARACTER)'s page, this right now is avoided by slapping a giant spoiler tag halfway through the Appearance section, but that just leads to a case where we're trying to write paragraphs that squeezing as much non-spoiler info as possible within the space of a few paragraphs. "Geography" sections on location pages are also a good example -- if we're describing the layout of a location in-universe, then we naturally have to give context about it, or else it doesn't really work.

While I'm okay with rewriting the spoiler policy to say that you can't include spoilers in the lede (intro) or in gameplay sections, where readers would want to avoid spoilers, I'm not okay with limiting the scope of these sections artificially.

Finally, I would update the Manual of Style and Article Layout Guide (if not merge) to reflect these changes. The Spoiler Policy can probably be merged with MoS if we agree to removing spoiler tags, and the change would be to just not include spoilers in lede or gameplay sections, so that those who wish to use the wiki to help with their playthrough can do so without being spoiled.

I've come to realize just how important the lore sections of our wiki are especially with many pages getting traffic from FFVIIR so that people can look up the wiki regarding lore. This is why I intend to rewrite pages with the above suggestions (building on existing content though, not disregarding it), and also to play through Crisis Core and the original game to do them as thoroughly as I can to the utmost quality, in preparation for future remake parts. However, I feel like these changes can greatly benefit editors writing content for every game in the series, and so I would strongly urge these changes to be adopted.

Please let me know your thoughts.
Agree with everything you said. "History" is a better term overall since most "Story" sections also cover events in backstory and lore; past tense is better than present tense in general with this sort of content; one reading a story section should expect spoilers by their nature, and the Wiki's front page warns people.

Catuse

says

at 20:25, May 6, 2020 (UTC) "Somewhere a

zealous god

threads these strings

between the clouds

and the earth, preparing for a

symphony it fears impossible to play

. And so it threads on, and on, delaying the

raise of the conductor's baton

."

I have to disagree about spoiler tags. The primary purpose of our wiki is gameplay stuff, and people use gameplay stuff while they are playing the game (funny how that works). Certainly lore pages will have spoilers, and I have no problem with loosening the spoiler policy there, but on gameplay pages we kind of actually need spoiler tags.

An example of this phenomenon is Eden's Verse: Refulgence. When this page is completed (which is proving to be a herculean task, but should be done soon-ish), there will be spoiler tags around the story section, and possibly around the Savage gameplay section because the Savage version of the fight is a huge spoiler to people who have just done the Normal section. However, this is far from obvious to an unsuspecting reader, because normally Savage fights don't have a story. So, as a courtesy to the reader, we would spoiler the Savage section.

By the way, spoiler tags don't work on mobile, and I'm told that this is because they are classified as Notices. This seems bad on two levels:

It means they don't work on mobile (duh), undermining the wiki's usefulness for gameplay stuff to mobile users.
If notices don't appear on mobile, then the semantic meaning of the class Notice is something like Template:Mbox, i.e. meant as a notice to editors, not to readers. Spoiler templates are more like Template:See, which is clearly meant for the reader.

No strong opinion about the other stuff, other than that updating and revising MoS is good.

I also am not convinced that rewriting lore pages to change the tense is a great use of wiki manpower when there are releases (mainly XIV) where our lore coverage is like nonexistent, and it would be better if our lore junkies were investing time into writing pages for that than fiddling with the tenses on pages that were already written.

(Techno has clarified this would just be a thing for going forward and with rewrites, not something that would be redone in one fell swoop.)
I've always found reading the past-tense on Wookieepedia to be really weird.
I suggested this somewhere else, but having thought about the idea more, I quite like the idea of having a History section that is a brief chronological timeline of all events involving the subject (each line can have refs/notes to point out in which title the event is depicted, or from what source the event is spoken of), and then having game-specific Story sections that explain the story as it is revealed in the game. Like the Nibelheim Incident page, it allows us to have Story sections that cover retconned things and non-canon things. Also the brief nature of the chronological timeline means we won't have to quibble about what's canon when there's minor discrepancies.
But ultimately I'm just going to defer to what the people who write the sections think is best.
Also I still support using spoiler tags, and going through minor inconveniences to avoid spoilers where we can. JBed (talk) 21:01, May 6, 2020 (UTC)

Sorry for long reply...

Special:Analytics and Special:Insights/popularpages will actually show you that the most viewed pages and biggest search terms at present are lore pages. Now in normal periods when we don't have a big release, this isn't always the case, and it's more often a mix (Monster Arena and Final Fantasy X items are usually near the top, plus gameplay content is spread out across a lot more pages than lore pages are, so it's hard to quantify), but I think the premise of "The primary purpose of our wiki is gameplay" is flawed. People use our wiki for different reasons, and I'd argue that gameplay and lore are equally important.

I 100% agree that gameplay pages should not contain spoilers, and I also agree with going through editor inconveniences to avoid spoiling readers. On quest pages for FFVII Remake, I tried to give the subheaders for boss sections ambiguous names if the boss was a spoiler (i.e. if it's a spoiler that you fight Rude in a chapter, I'd just label it "Boss fight" or something) so as not to spoil in the ToC.

That said, I think it makes a case for splitting gameplay and lore content. My ideal would be more differences like Tifa Lockhart and Tifa (Final Fantasy VII party member)/Tifa Lockhart (VII Remake party member): the former page is used for lore primarily, and the #Gameplay section exists to provide an abridged overview and point the reader to more in-depth gameplay info if that's what they're looking for, while the latter contains all gameplay info without spoiling. i.e. In the latter's #Quests section, it tells you what quests the character is playable in, but not what happens during those quests. This is also partly why I think more gameplay content should be split from location pages into the various quest pages and other places where the info can be obtained, while the location page's #Gameplay sections are used to point them to where they can find more.

In the case of Eden's Verse: Refulgence, I'm less familiar with the subject material, but I'd say for the Story section that the fact the section is clearly labeled "Story" is enough of an indicator that "it contains spoilers here". My instinct would be that the Savage subheader implies "don't read this if you don't want to know what happens in this fight", and I'd go with my above idea of avoiding spoilers in the ToC, but let me know if this doesn't work.

I'm not opposed in principle to the idea of splitting History and Story provided it doesn't just repeat itself. Speaking personally, I'd include retcons, non-canon, or dubious canon story accounts in "Behind the scenes" sections just to avoid the fears of repetition, but it's not a bad idea.

p.s. Wookieepedia's past tense isn't what I'm going for. They use past tense in all of their content because Star Wars is set a long time ago in a galaxy far far away, and the idea is that it's an in-universe encyclopedia, but I'd limit past tense to History sections because we are explaining the historical account of a section. Cloud Strife

is

a character in FFVII that I can play, but he

was

born in Nibelheim. That said, in general, I'd

never look to Wookieepedia

as a model.

Catuse

says

at 22:02, May 6, 2020 (UTC) "Somewhere a

zealous god

threads these strings

between the clouds

and the earth, preparing for a

symphony it fears impossible to play

. And so it threads on, and on, delaying the

raise of the conductor's baton

."

I stand corrected RE: gameplay vs lore. Though my point that we should not allow lore stuff to detract from gameplay stuff stands.

For Refulgence (and more generally Savage content) it is impossible to completely separate the gameplay from the story. Ryne summons Hraesvelgr; this is a major gameplay mechanic, and cannot be banished to a story section. Also, it is common for raiders to look at descriptions of Savage fights before attempting the fight, so it's not like people looking at the Savage section are only people who have already attempted the fight on Savage difficulty.

Agreed on not allowing lore to detract from gameplay.

I think this makes a good case to include spoiler tags on gameplay-only pages where spoilers within gameplay sections are completely unavoidable, and in this case, I'd limit spoiler tags to only being used in these contexts.
Community content is available under
CC-BY-SA
unless otherwise noted.