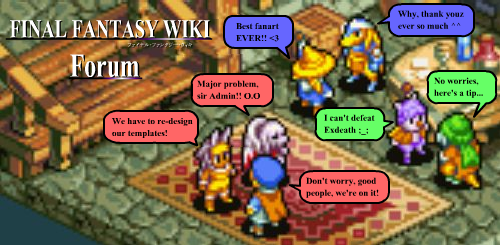 So I was browsing Tumblr as I usually do and I came upon a link to the website of a Canadian restaurant (to be more precise: from Vancouver) called "EXP" and they have dishes and drinks' names themed around a variety of game franchises and I strongly encourage you to visit the website here; you won't regret it, I swear! Aside of that, I think we can put dishes and drinks themed around Final Fantasy series on our Final Fantasy in popular culture and appropiate pages since it's kinda a big thing IMO.—Kaimi (999,999 CP/5 TP) ∙ 22:00, July 30, 2015 (UTC)
I like their ideas, but their repertoire is sorta lacking in variety.... Still, it's nice to know that they are attempting this. Mask no Oni (talk) 23:13, September 2, 2015 (UTC)
oh hey I'm back
HIJACK'D
Hi I'm here with some ideas for game inspired food
HERE WE GO
1 2 3 4
Steak Shoyu Shadow Ramen (Daigyuniku Shoyu Kage Ramen) - The World Ends with You - A deep broth as black and as shining as the night sky, along with noodles in such a color. A secret recipe for the ages! Beefy, hardy and delicious! Add (estimate) for a decadent Yonezawa 32oz beef steak! As popularized by Shibuya Legend Eiji "Petite" Oji! (Sorry, this is seriously a recipe I'm working on.)
The Onion Knight's Proof of Mastery! - Final Fantasy - A platter of piled vegetables abhorred by many a child! But making one's way through, what is the prize that lies underneath? Young challengers who wish to become heroes, brave your fears and weakness to find the true strength within to prove your worth! - Fried onions, spinach, peas, broccoli, bean sprouts, carrots, garlic, and squash diced bite sized and seasoned, or a salad of spring mix, tomatoes, cucumbers, roma lettuce, spinach, valerie and fried onions, all over a sealed meal of steak, buttered mashed potatoes/au gratin, gravy and cheese! Comes with a nice roll of Gnomish Bread! Parents can surprise their kids with what's inside too! (still working on this)

some of this doesn't seem too inspired by the games themselves, unfortunately, but i really do like the concept. looks really tasty, too! the artnia cafe in japan does it really well, but that's a square enix cafe solely, so there's one big difference. also, square enix has quite a bit more money...
Community content is available under
CC-BY-SA
unless otherwise noted.