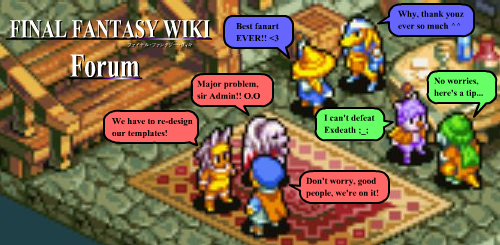 Hey, guys. As you may be aware, Wikia has added a new promote feature to allow Wikis to potentially be displayed on the front page in advertising. Now, despite my position on Wikia updates, an advertising opportunity is an advertising opportunity, but I didn't feel it should just be left to me, or indeed, just be left to the admin population. So here I am. Now, there are three parts: the headline, the description, and the images. Now, despite Final Fantasy Wiki being on there now under 20 characters, it apparently will not accept descriptions under 20 characters, so I just made it "The Final Fantasy Wiki" to make the contrary device happy. Next is the description. The default:

Covering one of the most well-known video game series of all-time, Final Fantasy Wiki is dedicated to collecting information from elements of storyline and characters to gameplay and Entertainment, as well as everything in between.

Wikia description

And my proposed change:

Covering one of the most well-known video game series of all-time, the Final Fantasy Wiki is dedicated to collecting information about the Final Fantasy series, from elements of storyline and characters to gameplay and Entertainment, as well as everything in between. In addition to our encyclopedic data of Final Fantasy titles new and old, we also have walkthroughs designed to help players get through Final Fantasy games, and forums where fans with questions can ask for gameplay help, ask questions about the plot of games, or even submit fanwork.

Me

I left in the Wikia description because it wasn't a terrible starting position. I tried to add in as many of our special features as possible to the description, since, y'know, we are a Wiki, obviously, when you come to a Wiki you expect encycolpedic database knowledge. I figured I'd point out what made us stand out. Proposed additions or changes? Seeing as how there's a minimum of 300 characters, I don't think we're crunched for space, but a long description might put off potential viewers.

Now, the most important part, images. The images are what are going to pull in viewers, and consequently, we want to stand out from the crowd with our images. The main Wiki image is the one shown (from what I can tell) on the main page, and then you can see the others upon "zooming in", I guess, to our Wiki(it's a magnifying glass, what else is it supposed to represent? Investigating for clues?) This is our current main Wiki image, and we have two additional other, secondary(?) images. It says on that section that we may have up to nine, but I don't know if that includes the main image or does not include the main image; ten seems more tidy but that might just be me trying to enforce order on a disorderly system, I don't know. These two are our two images that Wikia has generously granted us to also represent our Wiki, so it's up to you whether you guys wanna keep with these or get new images to represent our Wiki. For some reason, though, there is a little doubt in my head that says you guys don't want just Dissidia, the Compliation, and FNC to represent you. I guess it could be wrong, but somehow, I don't think so. Any recommendations for images? I don't know what format they should be; I refreshed the wikia main page until I got our wiki, and zoomed in on it, and the format seems to roughly follow the rectangular shape of the two add images, but for some reason it seems to be cutting them off partially in the big, zoomed in version, but leaving them full on the smaller image below. The main image is being cut off in both the zoomed in and smaller versions. I don't know what's up with Wikia's shenanigans, just figured I'd throw that out there.

So, what do you guys want to represent our Wiki with Wikia?
I wrote a response but internet problems lost it. Quickly:
Joke about me writing a rant about walkthrough space
"gameplay and Entertainment" should be changed to "gameplay and strategy" or something that says we give help with puzzles and tips for playing the game. What does "Entertainment" mean and why is it capitalised?
MainVisual sucks. Add2 looks cool but since it's exclusive XIII I don't like it. To keep neutrality we could stick to series-staples or just use main-series protagonists. We could also use Dissidia images that aren't as awful as the MainVisual and aren't an awful collection of images. JBed (talk) 23:47, August 29, 2012 (UTC)
Does the main Wikia site get a lot of hits seeing as there doesn't seem to be much content there? I doubt it'll affect the visitor numbers this way or that what our blurb is. The picture is more important that someone might click on it if it looks extra interesting, but the use of SE's images in our own advertising is NOT fair use. I don't know what route Wikia went to choose the images they chose, are they SE's promo pics or what.Keltainentoukokuu (talk) 00:08, August 30, 2012 (UTC) EDIT: Looking at other sites' ads many seem to be characters and collections of characters in a collage. Looks all pretty terrible. What a mess.Keltainentoukokuu (talk) 00:11, August 30, 2012 (UTC)
Well, we are already blessed (?) with being on the front page, but the image should probably change. The fact that using SE's images to advertise isn't fair use is a problem…I can't really think of any alternative, but anything is better than that collage they are using now.
I would suggest a better image that represents the series, but I can't really think of one. Since we get several images, maybe just take a few from several games so that there are a wide variety of games instead of trying to get the entire series onto one image? ScatheMote 01:24, August 30, 2012 (UTC)
Something simple yet eye-catching? This is a style example not a submission.Keltainentoukokuu (talk) 02:06, August 30, 2012 (UTC) And to add to that we are advertising the wiki rather than the FF series, and while the two are obviously linked, it's the "promote the series" mentality that makes so many of the other ads on the main page so soulless. Lyric wiki has the best banner.Keltainentoukokuu (talk) 02:08, August 30, 2012 (UTC)


Community content is available under
CC-BY-SA
unless otherwise noted.