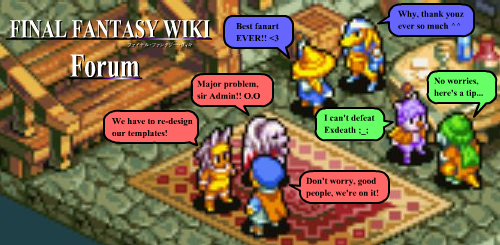 Didn't know where else to put this, so here it is! Anywho, recently I've been thinking of redoing some older FF LPs, seeing as well....they're old and they could probably be done better in this day and age with commentary. And not be in 10 minute chunks because old YT. So, here are the choices for you guys to choose from that are already on the channel (and I may be willing to do)!

Final Fantasy (PSP) - I already did one for the PSX version ages ago, and while it's not BAD, it's horribly outdated and doesn't have fun breaking the game as it could have!
Final Fantasy IV (PSP) - GarlandtheGreat already suggested this one to me, but I didn't say WHICH version I would do. The PSP version would be chosen for the remake of the LP in addition to doing Interlude and TAY as new additions to the channel. Despite how terrible TAY is...
Final Fantasy V (GBA) - I already did this ages ago for the SNES version (with the GBA bonus dungeon done much, much later on). It's a fun game and I wouldn't mind showing off some gamebreaking stuff if I can ever get around to it.
Final Fantasy VII - My current LP of this still gets a loooot of comments even in this day and age despite being 6 years old, but I feel that version is horribly outdated and could be redone so much better and faster. Plus, I don't feel like I really showed off everything I could have shown off!
Final Fantasy VIII - This one I'm VERY iffy on, if only because it's Final Fantasy VIII...
Final Fantasy IX - Not much to add to this one really, now that I think about it...
Final Fantasy Tactics - Mostly because the old LP ended up desyncing in audio something fierce.




And that's it for the old LPs! As for new LPs, these are what I have planned to do in the future, assuming computer lasts and I get around to them:




Final Fantasy IV: The After Years
Crisis Core -Final Fantasy VII-
Dirge of Cerberus -Final Fantasy VII-
Final Fantasy X International
Final Fantasy X-2
Final Fantasy XII
Final Fantasy Tactics A2: Grimoire of the Rift
Final Fantasy Crystal Chronicles (Blind)
Final Fantasy Crystal Chronicles: Ring of Fates
Final Fantasy Crystal Chronicles: Echoes of Time
Final Fantasy: The 4 Heroes of Light (Blind)
Final Fantasy Adventures (Blind)
Dissidia 012 Final Fantasy (Blind for the most part)
Final Fantasy Type-0 (Maybe...not sure on this one)




Games that I might NEVER do:

Final Fantasy XII: Revenant Wings
Final Fantasy XIII series (no way of really doing these games)
Final Fantasy XI/XIV (not interested)
Final Fantasy Crystal Chronicles: My Life as a Darklord/My Life as a King/The Crystal Bearers (don't think I can do these)
Final Fantasy Record Keeper/Final Fantasy Dimensions (As much as I'd like to, don't think Phone emulator works well enough)
Pictlogica Final Fantasy/Final Fantasy Airborne Brigade/etc. (JPN only of course)
Final Fantasy III DS/Final Fantasy IV DS (No reason to do these)




Whether or not I do these with other people varies wildly depending on who'd be interested in doing these sorts of LPs and at what times. I've never done LPs with other people, so I'm not sure how it'd turn out. But there you have it! Feel free to vote for whichever LP you'd like to see Remastered, which you'd like to see next, and whether or not you may be interested in trying to do a co-commentary of sorts on any of them!

Oh boy...choices! I vote Type-0, because that one could be fairly interesting, or maybe Crisis Core (I haven't played that one, it'd be interesting to watch it). I like FFXII, but that'd take absolutely ages to get through so it'd be a very long LP. If you want to redo one, redoing FFIX could be interesting; I don't think FFIV:TAY is worth playing really (but it might be nice to try the DS version?).

While I do have Steam, I don't have the money to buy things on steam so that's out of the question really. And I'm sure I've done things that's taken quite a long time on their own heh. Plus I have my limits on 100% some games (XII in particular because Yiazmat...).

Hexedmagica

 - Rathalos: World Tour/All Ass Sword

TALK

- My companions' feelings have been etched upon this body. I'll change this eternal darkness into light! Heaven and Earth! One who matches the gods! CHOUGINGA GURREN-LAGANN! 02:43, September 29, 2015 (UTC)

If you were gonna redo one, go with IX. IX is love and also life.
For me, the best ones to redo would be IX and Tactics, as both are just awesome. To try something new, go for X or Crisis Core (never played this last one, but I wish to try it someday only because of what I hear of it). JC Holy Knight (talk) 02:41, October 1, 2015 (UTC)
Community content is available under
CC-BY-SA
unless otherwise noted.