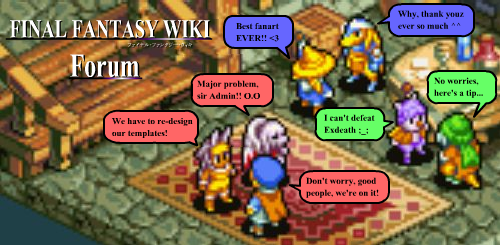 Tia-Lewise

 - Tread lightly, she is near, under the snow. Speak gently, she can hear the daisies grow

TALK

- Summoner of Nyan 12:38, December 2, 2014 (UTC)

So Techno just asked me on Facebook if we can nominate articles that were Featured previously. Being the rulemaker (I guess) I realised there is no rule for it but my opinion was that there wasn't really any point and maybe it's a tad unfair to other articles, so I removed his Tifa nomination till this can be discussed with other users. What does everyone think?

Basically my opinion is just that if other people think it's pointless for an already FA'd article to be FA'd again, then they just don't vote for it to be re-FA'd. If it is worthy of being FA'd again/changed a lot since original Featuring, then people will vote that it can be FA'd a second time. However, I do not have strong preferences, I just think that we should have an actual rule for either way.

Catuse

says

at 14:41, December 2, 2014 (UTC) "Somewhere a

zealous god

threads these strings

between the clouds

and the earth, preparing for a

symphony it fears impossible to play

. And so it threads on, and on, delaying the

raise of the conductor's baton

."

People don't know off the top of their heads every article that's been FAed since 2006. Also, re-FAing an article is basically saying that we don't have enough well-written interesting articles that we'll present on the front page. If that's the case (I don't think it is) then we're doing something wrong as a wiki.

Agree with Catuse. We have over 16 thousand articles to pick from, or so says the front page. If we need to fall back one of the articles from a pool of like ~100 atm instead of that then something is wrong. that said, its probably not a good thing to rule out a re-FA completely.. i think it just needs to be really justifiable for reasons that didn't exist the last time it was up there.. perhaps a no-renomination window period of idk.. 4 years might be useful.
What cat said. If we are so low on Featurable articles (which have almost no guidelines for being feature-worthy (it's mostly up to users)) then we're doing something wrong. JBed (talk) 17:06, December 2, 2014 (UTC)
Actually, I don't mind renominating articles which were FAs in the past, but I would go with a no-renomination window like Spira said. The reason why I think it's no biggie is that some substantial information would be added regarding a specific topic (character, location, etc.) which weren't available at first and refeaturing certain articles (not all of them, there's no need for refeaturing something like an ability article, at least IMO) is something I find okay to do.

---

Is there an article you think is of an exceptional quality? Vote for it

here

!

I do agree that renominating a previously featured article shows that we haven't had featurable articles. There's also the fact that the people who choose which nomination they vote for may not know it was previously FA'd. I still have no strong stance, but I can definitely see why banning previously featured articles is a good idea for quality control.
Community content is available under
CC-BY-SA
unless otherwise noted.