m

Line 13:
Line 13:
 

{{Heckotalk|14:44, 16 October 2007 (UTC)|Aaaargh, a tick, that's what it was called! In Denmark it is called a (directly translated) "fly leg", but it just didn't make any sense in English. As for the skin, we've had it coming for a while. One could even try them out ahead of time. I just never liked it that much (read ''it sucked as hell and annoyed me to no end... no offence to the designer'').}}

 

{{Heckotalk|14:44, 16 October 2007 (UTC)|Aaaargh, a tick, that's what it was called! In Denmark it is called a (directly translated) "fly leg", but it just didn't make any sense in English. As for the skin, we've had it coming for a while. One could even try them out ahead of time. I just never liked it that much (read ''it sucked as hell and annoyed me to no end... no offence to the designer'').}}

 

{{CSM|15:40, 16 October 2007 (UTC)|Are we gonna make a new skin? I know Ren has some css tricks we can use.}}

 

{{CSM|15:40, 16 October 2007 (UTC)|Are we gonna make a new skin? I know Ren has some css tricks we can use.}}

 
+

{{Heckotalk|16:52, 16 October 2007 (UTC)|I think we should just leave things as they are as to avoid screwing up all the templates used on this wikia. We should probably make a "''This wikia is best viewed with the MonoBook-skin''"-type message on the front page.}}
---
Revision as of 16:52, 16 October 2007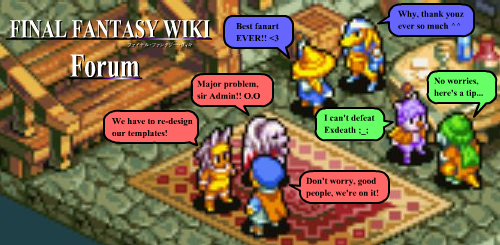 Hecko's noticed it too, so luckily it's not just my PC being crap, but it appears we're being forced to use the new look. Of course, this is totally gay, since the new look sucks balls since it displays information in a terrible way.

I've tried setting it back in my preferences, but no luck. I think we should complain to Wikia about this.

My Preferences --> Skin --> Remove mark in "See custom wikis (recommended)" --> Save.
P.S. Make sure skin is set to MonoBook.

Thanks, I didn't want to untick that in case something worse happened.

I wonder why it suddenly done this though?

Aaaargh, a tick, that's what it was called! In Denmark it is called a (directly translated) "fly leg", but it just didn't make any sense in English. As for the skin, we've had it coming for a while. One could even try them out ahead of time. I just never liked it that much (read it sucked as hell and annoyed me to no end... no offence to the designer).

Crazyswordsman

 - Final Fantasy VI, because Drake says he wants to link to FF7 every day, which is bad because that game is so far inferior to FF6.

TALK

- 15:40, 16 October 2007 (UTC)

Are we gonna make a new skin? I know Ren has some css tricks we can use.

I think we should just leave things as they are as to avoid screwing up all the templates used on this wikia. We should probably make a "This wikia is best viewed with the MonoBook-skin"-type message on the front page.
Community content is available under
CC-BY-SA
unless otherwise noted.