Line 6:
Line 6:
 
 
 

I've tried setting it back in my preferences, but no luck. I think we should complain to Wikia about this.}}

 

I've tried setting it back in my preferences, but no luck. I think we should complain to Wikia about this.}}

 
+

{{Heckotalk|14:30, 16 October 2007 (UTC)|''My Preferences'' --> ''Skin'' --> Remove mark in "''See custom wikis (recommended)''" --> Save.}}
---
Revision as of 14:30, 16 October 2007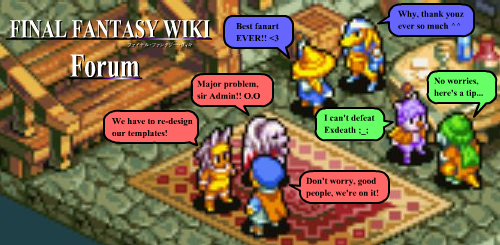 Hecko's noticed it too, so luckily it's not just my PC being crap, but it appears we're being forced to use the new look. Of course, this is totally gay, since the new look sucks balls since it displays information in a terrible way.

I've tried setting it back in my preferences, but no luck. I think we should complain to Wikia about this.

My Preferences --> Skin --> Remove mark in "See custom wikis (recommended)" --> Save.
Community content is available under
CC-BY-SA
unless otherwise noted.