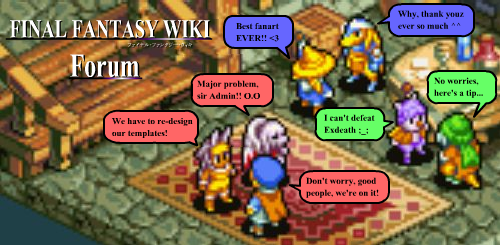 This hasn't been an issue for a long time but has come up with the search for Weapon images from the three NES titles.

As I'm sure anyone who has seen the NES games knows, there were no battle backgrounds in detail, mostly they were just all black. The matter at hand is that this means that strictly speaking, the NES games sprites did not have any black borders. They all looked like like these images do.

Obviously, if we treat all the sprites for the three NES games like that, we will run into some problems, it's not a problem for the weapon pages, it's a simple fix on the linked page to change the background of those cells. But for enemy templates and just using the sprites around the Wiki, it may look odd. On the other hand, the addition of black backgrounds is technically modifying a copyrighted image, and is glorified guesswork at times.

So, borders, yay or nay?

Using modified or unmodified FF official images for the purpose of illustration is still fair use, so that's not a problem.

Well, that's good to know. Shall we just go with that then?

Tia-Lewise

 - Tread lightly, she is near, under the snow. Speak gently, she can hear the daisies grow

TALK

- Summoner of Nyan 19:24, November 3, 2013 (UTC)

I don't see any problem with some editing on the images.