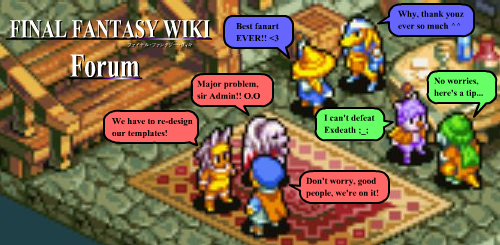 What ho, everyone.

As you might know, technically our IRC channel is supposed to be registered under #wikia-[X]. Recently, Ark and I tried to negotiate with Freenode and sannse to allow us to stay at #FFWiki while being part of the #wikia umbrella officially. Unfortunately the negotiations didn't pan out (I stress that there was no ill-will on any side, and there's no need to be annoyed), and Freenode have requested that we move to the Wikia namespace as they have declared gaming wikis off-topic. That leaves us with a couple of choices:

Move to another network - this is pretty drastic, especially considering that Freenode is a stable service with good moderation.
Move to ##FFWiki - double-hashtag channels are operated on a first come, first serve basis, there's still the possibility of Freenode turning us down and Freenode have explicitly requested that we move to #wikia-[X].
Move to #wikia-[X] - I realise there is still some ill-feeling towards Wikia, and some users don't want to be too closely associated with them. However, I think the probability of us moving from Wikia is low. There's also the possibility of Wikia interfering with out channel, but again, the probability is low and they could have done it before, anyway. If we do want to leave Wikia, we can always move to Esper.net.

Considering these reasons, Ark has registered #Wikia-FF for us. #Wikia-finalfantasy has also been registered by Faethin, quite a while ago. There's only aesthetics to decide between them - I prefer #Wikia-FF, since it's shorter and closer to our current channel name, and everything has been set up.

#FFWiki will remain open for some time, to allow forwarding of users to the new channel. Please add #Wikia-FF to your autojoins, and we'll probably start using it as our main channel after a week or so. Thanks.

Finally, a big thank you to Ark for setting up the channel and doing most of the negotiations with sannse and Freenode.
| | |
| --- | --- |
| | |
As part of the closing of the old channel, #FFWiki will remain open but +m (moderated) for a few more days to give people time to manually move over to the new channel rather than relying on a forward to do it for them. After that, #FFWiki will be set to forward users to #Wikia-FF and finally will be closed for good at some point beyond that.

I must stress that, apart from the change of name, there will be no changes to how the channel operates.

Yuan covered the underlying situation rather well, and I will again emphasise that there has been no ill-will on either side here.

Indeed, we did not actually need to move channels just yet; the point of my negotiations was more to have a plan in place for the future of the channel, which was finalised as a move in the eventual future. However, we were somewhat forced to initiate the move when certain occupants of the channel took 'just so you know, we will need to move at some point in the future to #Wikia-FF' as 'WE MUST MOVE NOW. EVERYONE OUT. GO GO GO', so here we are...

I did consider the possibility of moving to another network, but the simple fact is that freenode still offers many benefits for us - the opers do not abuse their power, the network is stable (especially compared to some), has a good Services package, and it has sensible channel and nick policies. There is also a root structure of sorts for us on freenode in the form of numerous 'side-channels' used by our userbase in addition to various other channels relevant to us that are also present on the network. I would favour EsperNet as a secondary choice, but I consider freenode to be the superior network for us.
| | |
| --- | --- |
| | |

Community content is available under
CC-BY-SA
unless otherwise noted.