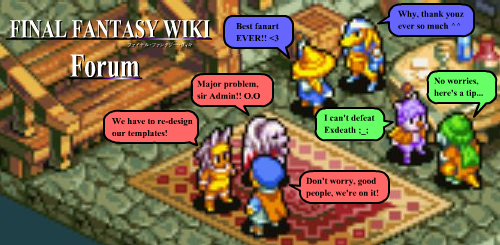 This was a debate a few years ago that went nowhere due to, looking at the old discussion on the talk pages, a rather even split of support and oppose. But bringing it back up again - I propose we merge

Chocolina

and

Chocobo Chick

under the former name, and

Barthandelus

and

Galenth Dysley

under the former name.

The main reason people opposed the merge was because of spoilers. It was a dumb reason then and it's a dumb reason now. We don't hide the true name of Ashe when the player first meets her as "Amalia," we don't hide Edea's last name is Kramer. Why should we hide the fact that these two characters are the same person?

With Chocolina, Lightning Returns makes it explicit that the Chocobo Chick is named Chocolina by Dajh, and it's explicit in that game and XIII-2 that the woman and the Chocobo chick are the same entity.

With Dysley/Barthandelus, duh. The only issue is which name to use. I prefer Barthandelus since that's his true form, but I'm open to discussion on it.

EDIT - I also ask that people keep in mind that things like Kain Highwind/The Hooded Man would need to be split going by this precedent.

B

lue

H

ighwind

Q?

23:02, June 22, 2016 (UTC)

TALK

- So if you care to find me, look to the Western Sky!

ツ

:

We merged Mydia and Judge of Wings, merge those.

Also I demand that all four pages be one mega awesome page promoting the theory that the Chocobo Chick and Chocolina were really Dysley in disguise the whole time.

I think we should keep them separate for the spoiler reason, and because I think there is enough content for two pages for each identity of the character.

Ashe has already appeared as the princess in the opening FMV. Amalia thing is not a spoiler.

Spoiler surnames are inconvenient, but it'd be tricky to make a rule against them.

Hexedmagica

 - Rathalos: World Tour/All Ass Sword

TALK

- My companions' feelings have been etched upon this body. I'll change this eternal darkness into light! Heaven and Earth! One who matches the gods! CHOUGINGA GURREN-LAGANN! 14:07, June 24, 2016 (UTC)

I agree with Blue here, we already have precedent so, may as well make shit consistent.
One page. Navigate the wiki at your own risk. ScatheMote 00:36, June 25, 2016 (UTC)
Community content is available under
CC-BY-SA
unless otherwise noted.