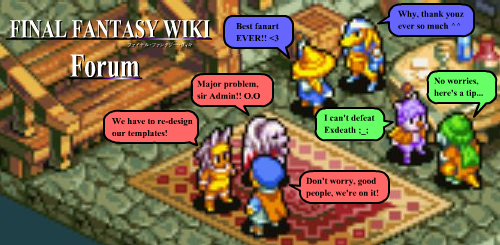 Hey, guys!

So my good friend Psychobilly2422 and I have put together a prototype for portal navigation to appear on the main page: here. Essentially, this is designed to replace the "Category Primer" and "Final Fantasy Series" indexes with a more user-intuitive and eye-catching design, partly based on the navigation you see on other wikis. If anyone doesn't get what it is, it's meant to be based on the FFVII menu. We'll probably add links to the DNC and IRC channel below before we do that, but that'll just be basic stuff.

I'm posting this to ask if people approve of include the navigation at all, and where they want it included. My instinct would be to put it at the top of the main page, above Featured Article, and then remove the FF series and index below. Secondly, any critique on the design, or things we can change? One idea I had was having the FFVII menu background appear as the default, and only the cursor hand appears when hovered over, but then again, I do really like the transition currently in place... the other thing was having the FFVII menu gradient appear as a background for the whole thing, but the background on the images currently unchanged. Anyone have any critique also on the images chosen?

It looks quite nice, although why is the cursor's background solid white (it's like that in the Oasis skin, can't say much about Monobook, but hardly anyone is using that skin).
"FINAL FANTASY" in "Games" section should be more to the center and it has some white-sliverish outlines visible on this blue background.
For "Creatures" I'd go with a moogle since it's been longer in the series than Cactuars, although maybe a Chocobo would be even a better choice, but consdering the Wiki's mascot is chocobo that'd be an overkill IMO.

When you said "If anyone doesn't get what it is, it's meant to be based on the FFVII menu." I thought that it would look more like that actual menu and not icon based. Like there would be bars with images and names on them and when you'd hover over them, then on the side there would be something more like that icon thing. I might make a visualization of what I mean if you want but I think what I imagine might not exactly sit well with an average user, especially with lots of traffic coming from mobile devices.

---

Is there an article you think is of an exceptional quality? Vote for it

here

!

I think the blue should be the same blue as on the crystal shards on the right of the wiki. And if the images could have a unified style, but that could be hard to accomplish. Amano art pics would look great and perhaps be the most unifying "Final Fantasy" thing the series has going on, but not everyone is a fan of that style. FF logos are always Amano art on a white background and I always thought the wiki was going for that effect with the white background and the blue crystal art.

Kaimi:

SCM picked up on the white-silverish outlines earlier, I'm not really sure what to do about that, though. There's already a Moogle included on the main page, so I went with Cactuar instead. Also, do not worry about mobile users for the main page, they use a completely different curated main page. Which I will edit after we've finished iwth this design. So feel free to share your idea, but the less complicated it is, the better for readers.

Kelt:

I think uniform designs would be a decent idea but it'd be almost impossible to pull off. A large part of the reason I went with such diverse images is just that the series is full of diverse imagery, really I'm most disappointed I didn't get a sufficient image to show off the sci-fi settings as well. If there was a sufficient category I could use for "Setting", I'd love to do that, I'd love to add five more categories but I don't think there are five more good ones.

looks all good to me. Not a fan of the "background fades to blue" effect though, just having the background turn blue is more visually striking and immediate.
The idea seems okay. I feel that it isn't really something we need, but I have indeed seen similar designs across Wikia, so I'm okay with it. We definitely need to work on its look though. As it stands, the colouring, the frame of each category and even the font could use a retouch.
Community content is available under
CC-BY-SA
unless otherwise noted.