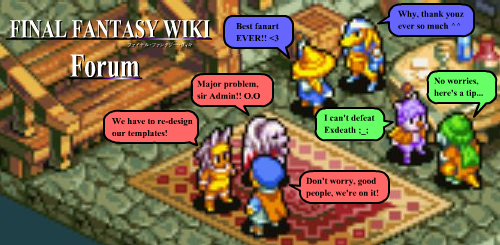 So ladies and gentlemen, the game is now afoot. Today is the big day of the great contest to decide who will be the Ultimate Champion of the Universe. Below is eight of the thirty-two fights that are planned for today, representing half of Round One for the Nintendo Bracket. Choose your fighter well.
Special thanks to ScatheMote for designing our battlefield.
LONG LIVE THE FIGHTERS!!
NES bracket
First Round!

Votes for Monk

FFVIIACCXD 01:48, August 27, 2010 (UTC)
Best in the game. --Ghost of Christmas Past 02:13, August 27, 2010 (UTC)
Monk vs Chaos: Monk wins in three rounds, under leveled. Thief vs Chaos: Round eight and we're still going. Likeacupcake 07:14, August 27, 2010 (UTC)
Monks are, if you ask me, stronger and more usefull than Thieves. Yeah, I know, Masters suck in comparison to Ninjas due to not having any magic, but hey: We're not talking about Masters and Ninjas here, are we? So, it is Monk for me. MirrorshardSceada 12:51, August 27, 2010 (UTC)
The Thief suffers from an identity crisis. Is he Link, or is he a pirate? Nobody knows. Everybody knows, on the other hand, exactly what The Monk is: He is a badass, and he gets my vote. -SideburnsPuppy 15:39, August 27, 2010 (UTC)
I can recall that in some FF games a team composed only of monks could kill the final boss in one turn when at a high level. Obviously my vote goes to Monk, I've never really used Thief. YKProductions 17:52, August 27, 2010 (UTC)
Monkity-monk monk :P The God of Darkness

Votes for Thief

Peanut Gallery
NES bracket
First Round!

Votes for the Four

FFVIIACCXD 01:49, August 27, 2010 (UTC)
 : P SquallTheBlade 05:51, August 27, 2010 (UTC)
Having never played III, my only knowledge of these two (five?) characters is that there are four Four Warriors of Light and only one of Aria. 4>1, so they get my vote. -SideburnsPuppy 16:04, August 27, 2010
Just for the Chrono Cross like gameplay. Sorry Arya. You are still awesome in my book. I just like Chrono Cross and its gameplay more. Irish Reaper 20:49, August 27, 2010 (UTC)

Votes for Aria

I prefer games that don't have gameplay ripped from Chrono Cross. ScatheMote 01:55, August 27, 2010 (UTC)01:41, August 27, 2010 (UTC)
Would I have snuck her into this contest to not vote for her? --Ghost of Christmas Past 02:13, August 27, 2010 (UTC)
Aria Indeed. TheBlueDragoon 02:54, August 27, 2010 (UTC)
As long as the former is not from III, yes, ARIA. Kupohunter 11:59, August 27, 2010 (UTC)
First, because I do not know enough about the Four guys on the other side yet, and second, because Arias sacrifice was one of the strongest scenes of III in my opinion. So it is Aria here MirrorshardSceada 12:54, August 27, 2010 (UTC)
She's the beautiful maiden of water. Poor girl. Hamfruitcake 09 13:10, August 27, 2010 (UTC)
Kyo-Sama420 13:58, August 27, 2010 (UTC)
I find the warrior's of Light to be too generic. Nothing special about them, Aria gets my vote. YKProductions 17:53, August 27, 2010 (UTC)

Peanut Gallery
File:Omega psp.gif
NES bracket
First Round!

Votes for Omega

Omega is the closest thing we have to a Warmech without lasers, whcih will laser you if you disagree. --DTN 01:44, August 27, 2010 (UTC)
FFVIIACCXD 01:50, August 27, 2010 (UTC)
I'm a hugeass mimic, I absorb Mist. I have grown so much over the years, my lazors do over 9000 damage with each hit. KujaRhapsodos 02:12, August 27, 2010 (UTC)
Ultima's pimp. --Ghost of Christmas Past 02:14, August 27, 2010 (UTC)
Emperor sucked in Dissidia SquallTheBlade 05:52, August 27, 2010 (UTC)
Seriously? Did someone just slap fights together or are these just as they appeared on the list? Likeacupcake 07:14, August 27, 2010 (UTC)
Never seen the Emperor, the Omega Weapon always kicked some buckets :P YKProductions 17:55, August 27, 2010 (UTC)

Votes for the Emperor

HEVUUUNS!!!! Doreiku Kuroofangu 01:59, August 27, 2010 (UTC)
Emperor is awesome! TheBlueDragoon 02:55, August 27, 2010 (UTC)
FOR TEH AERNA Kupohunter 12:00, August 27, 2010 (UTC)
Simply because I consider his personality and his crazy schemes as well as his cocky personality quite interessting. MirrorshardSceada 12:56, August 27, 2010 (UTC)
Must steal staff Hamfruitcake 09 13:09, August 27, 2010 (UTC)
I'm voting for the guy with the Huge Staff, for purely Freudian reasons. -SideburnsPuppy 16:07, August 27, 2010
I liked Mateus in FFTA, and the Emperor is named Mateus. Also, he tried to take over Heaven, Hell, and Earth. That takes awesomnesss. Irish Reaper 21:00, August 27, 2010 (UTC)
DrakemasterDrake 21:39, August 27, 2010 (UTC)

Peanut Gallery
NES bracket
First Round!

Votes for Refia

FFVIIACCXD 01:50, August 27, 2010 (UTC)
For teh sexeh. There is a disturbing lack of redheaded sexeh in the series. Doreiku Kuroofangu 02:00, August 27, 2010 (UTC)
Refia should totally become a Country-Western star. --Ghost of Christmas Past 02:14, August 27, 2010 (UTC)
What BH said. XD TheBlueDragoon 02:55, August 27, 2010 (UTC)
Well, I liked her personality in III DS, so... MirrorshardSceada 12:59, August 27, 2010 (UTC)
Much prettier Hamfruitcake 09 13:09, August 27, 2010 (UTC)
She's hot...nuff said Kyo-Sama420 13:58, August 27, 2010 (UTC)
Who do you really expect me to vote for: The cute girl, or the dude with the random ability to talk to beavers? -SideburnsPuppy 16:21, August 27, 2010 (UTC)
A better character imo, and she's nice lookin. YKProductions 17:56, August 27, 2010 (UTC)
Explain to me why Guy is wielding weapons when he can't even talk in the first place? o.o The God of Darkness

Votes for Guy

Awesome name :D SquallTheBlade 05:53, August 27, 2010 (UTC)
HE FREEND OF BEAVERS Kupohunter 12:01, August 27, 2010 (UTC)
Sexy girls are dime a dozen in FF. Guys who can talk to beavers arent. Nough said. Irish Reaper 20:58, August 27, 2010 (UTC)
Guy was the man in Final Fantasy II. Especially if you decided, like I did, to give him some essential white magic spells near the end of the game. DrakemasterDrake 21:40, August 27, 2010 (UTC)

Peanut Gallery
NES bracket
First Round!

Votes for Ricard

FFVIIACCXD 01:53, August 27, 2010 (UTC)
CRAZY BACKGROUND! --Ghost of Christmas Past 02:15, August 27, 2010 (UTC)
DRAGOON! (Even if he lacks the Jump command...) TheBlueDragoon 02:56, August 27, 2010 (UTC)
Epic background. YamiMysteriaG 12:55, August 27, 2010 (UTC)
Dragoon! - Enough said. MirrorshardSceada 13:00, August 27, 2010 (UTC)
Ah, the age-old clash of Dragoon vs. Dark Knight. When will the Dark Knights learn that the fandom will always go for the guy who wields Phallic Imagery as a weapon? -SideburnsPuppy 16:30, August 27, 2010 (UTC)
Highwind, a name that can never go wrong. YKProductions 17:56, August 27, 2010 (UTC)
He's the only reason I was able to complete Soul of Rebirth. Kupohunter 20:39, August 27, 2010 (UTC)
I think someone fixed this >_> The God of Darkness

Votes for Leon

 :) SquallTheBlade 05:54, August 27, 2010 (UTC)
He made FFII into a Star Wars clone. Staw Wars is awesome. Ergo, Leon is Awesome. Irish Reaper 20:51, August 27, 2010 (UTC)
It's not that I necessarily liked Leon, I just... don't really like Ricard. He joins with crappy stats, a bad set of equipment, and usually winds up dead by the end of every battle in Leviathan. My vote goes to Leon. DrakemasterDrake 21:42, August 27, 2010 (UTC)

Peanut Gallery
Scott vs. Onion Knight
File:IISoR-Scott.jpg
NES bracket
First Round!

Votes for Scott

FFVIIACCXD 01:50, August 27, 2010 (UTC)
"Prince Scott, our Princess is in another castle!" TheBlueDragoon 02:56, August 27, 2010 (UTC)
Dude died and still fulfilled his duty. that takes dedication. Irish Reaper 21:04, August 27, 2010 (UTC)
This dude is the only reason I survived during most of the Rebirth storyline. DrakemasterDrake 21:43, August 27, 2010 (UTC)

Votes for Mr. Onion

Oh, Onion Knight. So many great Dissidia combos we scored together. --DTN 01:47, August 27, 2010 (UTC)
Doreiku Kuroofangu 02:00, August 27, 2010 (UTC)
I like onions. KujaRhapsodos 02:13, August 27, 2010 (UTC)
Delicious! --Ghost of Christmas Past 02:15, August 27, 2010 (UTC)
Pwned everyone in Dissidia with sword and magic :) SquallTheBlade 05:54, August 27, 2010 (UTC)
I actually liked him pretty much in Dissidia. Well, at least as long as I did not have to fight him... MirrorshardSceada 13:02, August 27, 2010 (UTC)
As Shrek says, ogres are like knights...er, knights are like onions...onions are like donkeys? -SideburnsPuppy 16:36, August 27, 2010 (UTC)
Who's Scott? YKProductions 17:57, August 27, 2010 (UTC)
The undodgeble: RAIN!! Take that! Kupohunter 20:41, August 27, 2010 (UTC)
Main characters pwns most semi-playable characters The God of Darkness

Peanut Gallery
NES bracket
200px
First Round!

Votes for Firion

Firion was amazing in Dissidia.Keltainentoukokuu 01:35, August 27, 2010 (UTC)Keltainentoukokuu
FFVIIACCXD 01:52, August 27, 2010 (UTC)
Firion. That is all. TheBlueDragoon 02:57, August 27, 2010 (UTC)
Firion was my first lvl 100 character in dissidia :) SquallTheBlade 05:56, August 27, 2010 (UTC)
Cloud of Darkness may be sexy, but so are capes, and her acronym is the same as the acronym for Call of Duty, a franchise I honestly don't care for. -SideburnsPuppy 16:38, August 27, 2010 (UTC)
What SideburnsPuppy said. YKProductions 17:58, August 27, 2010 (UTC)
Take a look at numero nueve. Kupohunter 20:44, August 27, 2010 (UTC)
Firion as FFII is better except in terms of music than FFIII Irish Reaper 20:55, August 27, 2010 (UTC)
Because he's from a decent game, and actually has some characterization. DrakemasterDrake 21:44, August 27, 2010 (UTC)

Votes for Cloud of Darkness

This was a hard choice, but the Cloud of Darkness is the first main villain to introduce the concept of the Void. --DTN 01:49, August 27, 2010 (UTC)
Hope is for the weak, but sexeh is for the hor...nevermind. Doreiku Kuroofangu 02:01, August 27, 2010 (UTC)
She makes my penis feel good. --Ghost of Christmas Past 02:15, August 27, 2010 (UTC)
KURAYAMINOKUMO!! *rocks away* MirrorshardSceada 13:03, August 27, 2010 (UTC)
Those who want to destroy everything I want to have a drink with. Kyo-Sama420 13:58, August 27, 2010 (UTC)
Firion got on my nerves in Dissidia. Plus, the CoD has Kurayaminokumo working in her favour. The Man In The Black Cape 17:32, August 27, 2010 (UTC)
just 'cause I wanna tie it XD (and 'cause it's the best artisticly seen out of the original three Final bosses on the NES) The God of Darkness

Peanut Gallery
NES bracket
First Round!

Votes for Minwu

FFVIIACCXD 01:53, August 27, 2010 (UTC)
Awesome hat. --Ghost of Christmas Past 02:16, August 27, 2010 (UTC)
The only male to be a white mage! TheBlueDragoon 02:58, August 27, 2010 (UTC)
Never played II, so I have to vote based on what I heard/read here. And judging from that, I chose Minwu MirrorshardSceada 13:06, August 27, 2010 (UTC)
Back when Ultima was cool and White Magic. Favourite character in FF2 Hamfruitcake 09 13:08, August 27, 2010 (UTC)
YKProductions 17:59, August 27, 2010 (UTC)
Though his headgear is mystery, his power isn't. Kupohunter 20:46, August 27, 2010 (UTC)
The mage who did it. Irish Reaper 20:52, August 27, 2010 (UTC)

Votes for Gordon

Anyone who thinks Gordon is cowardly hasn't played past Kashuan Keep. Gordon pwns. - +DeadlySlashSword+ 01:45, August 27, 2010 (UTC)

Peanut Gallery

This is a tough one. I'm not really sure who to vote for. I really like both Minwu and Gordon, and both are extremely useful during the game. Minwu's got Teleport though... I just don't know who to choose. DrakemasterDrake 21:46, August 27, 2010 (UTC)