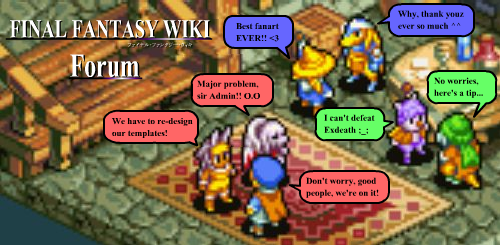 Hey all,

Fandom has an interview coming up with Alexander O. Smith, a Square Enix localization coordinator. He was first involved in the series as part of the translation team for Final Fantasy VIII, and was the main translator for Vagrant Story, Final Fantasy XII, as well as the lyricist for "Melodies of Life" and "Otherworld". They've given us the opportunity to ask our questions to him to be included in the interview.

Any questions asked to him will be credited to your username. This would be a great opportunity to find answers to questions and use them in our "Creation and development" sections on pages, citing the interview. We have the chance to come up with some really great and unique questions, so please add below!
Questions
Add your questions below, with your signature --~~~~, and they may be included in the interview!
What was the reason behind using "-ra", "-raga", and "-rasa" in the spell names as opposed to "Fire 2, Fire 3", etc.?--

Technobliterator

T

C

16:23, April 12, 2019 (UTC)
What thematic directions were you given for writing the lyrics for "Melodies of Life" and "Otherworld"?--

Technobliterator

T

C

16:23, April 12, 2019 (UTC)
How much interest is there in Square Enix Japan in foreign translations? Do they get a final copy of your work for a final "veto" if they feel something is wrong? Has Square Enix Japan taken more of an interest in how authentic translations are over the years? ----

B

lue

H

ighwind

ツ

00:41, April 13, 2019 (UTC)
In relation to localization of the Zodiac Age version of Final Fantasy XII. What were the reasons for some of the changes made from the English localization of the original Final Fantasy XII and the Japanese version of the Zodiac versions? Notable examples include the FINAL FANTASY weapons being changed to have a Hindu calendar theme, the colored "Fang" items being renamed, and the Aquaga and Aquaja spell renamings. --Miphares (talk) 01:22, April 13, 2019 (UTC)