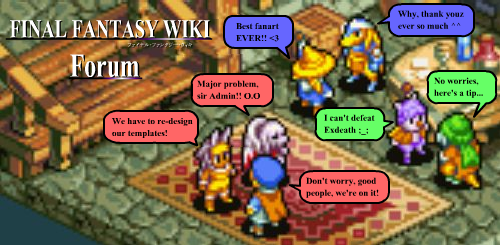 Template:Spira
I would accept I am no expert on managing a games company and sell the company for £X million. 79.69.196.120 20:07, June 18, 2012 (UTC)

Pikmin Master

 - No matter my strength, I will still be loyal!

TALK

- 23:32, June 18, 2012 (UTC)

Owning SE doesn't always mean that you can just make a game...or at least make a game that's good. If I owned SE, first thing is investigate the usual workings of a SE CEO, finding elements from our games that people like and attempt something like a spin-off or a new game that has elements of SE's best works.

That and find ways to make a good TWEWY sequel.
I'd order them to make a Chrono sequel. </forum> LC 10:03, June 19, 2012 (UTC)

Emperor Mateus

 - The hand of man, which deals in false justice and forsaken love, can never hope to defeat the lord master of Hell!

TALK

- 10:35, June 19, 2012 (UTC)

I would outright stop making any Final Fantasy games and focus the company's attention on things that actually have a future. Don't get me wrong, I love Final Fantasy, but I don't even know if you can call it that any more. When Sakaguchi left halfway through Final Fantasy X, the company just couldn't reach that standard that VI through to X raised the series to.


Not only that, but Square Enix is wasting more time on pumping out mediocre games or spin offs that, yes, makes them a lot of money - but overall they could have been spending their time on improving other things like Kingdom Hearts rather than flogging the dead horse of Final Fantasy. If they stopped making Final Fantasy games they'd still make a crapload of money from selling merchandise anyway. Take Star Wars for example; the last movie was made seven years ago and George Lucas is still rolling in cash.
Community content is available under
CC-BY-SA
unless otherwise noted.