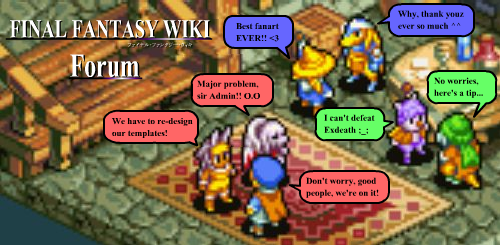 I was just wondering. If you owned Square Enix and had full decision-making power over the future and fate of the Final Fantasy series.. what would you do?

This is something I've always thought about... or maybe i just wished they did this.. here's my list.

port FF3, FF5 and FF6 in HD2D to the PSP, ala FF4CC.

graphically remaster FF7-9 and port to PS Vita. by this i mean making the pre-drawn backgrounds improved and in HD, touching up/recreating polygon models and FMV into a style/form more identifiable with the series now, and also redo FF7s OST in full channel lol.

release HD remasters of FF10-12 on PS Vita, including FFX-2. Revenant Wings would need to be remade entirely (it was awful looking :p)

rename Versus XIII to FFXV and let it be the last FF on PS3.

make a Dissidia on the PS3/XB360 with 4 player battle mode and far more characters XD

you can tell the Playstation fanboy in me is acting up too.. ideally it'd be FF1-6 on PSP, FF7-12 on Vita, FF13-15 on PS3 and whatever comes next (Agni's philosophy game) on the next gen console. thats how I'd do it anyway.. how bout everyone else?
I would accept I am no expert on managing a games company and sell the company for £X million. 79.69.196.120 20:07, June 18, 2012 (UTC)

Pikmin Master

 - No matter my strength, I will still be loyal!

TALK

- 23:32, June 18, 2012 (UTC)

Owning SE doesn't always mean that you can just make a game...or at least make a game that's good. If I owned SE, first thing is investigate the usual workings of a SE CEO, finding elements from our games that people like and attempt something like a spin-off or a new game that has elements of SE's best works.

That and find ways to make a good TWEWY sequel.

EDIT 22:59, December 18, 2012 (UTC): Now that a TWEWY sequel is all but confirmed, all I can say now is this:

Finish XIV and Versus XIII. Those are the main priorities. Make sure Dragon Quest X doesn't suck. (I won't buy it anyway, even if they did release it on NA. I won't buy an online game if it means monthly fees, even if the Alchemy system from IX is there.) Make that TWEWY sequel. Then after all of this, focus on KHIII. I guess a few HD remakes and ports will occur here and there. (FFV 3DS please. VI MIGHT be better on Vita, but as a Nintendo fan...you get the idea.)

Oh, and SOMETHING good for Wii U...and I don't mean Crystal Chronicles. Kill that piece of Magikarp.

Meanwhile in America, localize Type-0 and Bravely Default.
I'd order them to make a Chrono sequel. </forum> LC 10:03, June 19, 2012 (UTC)

Emperor Mateus

 - The hand of man, which deals in false justice and forsaken love, can never hope to defeat the lord master of Hell!

TALK

- 10:35, June 19, 2012 (UTC)

I would outright stop making any Final Fantasy games and focus the company's attention on things that actually have a future. Don't get me wrong, I love Final Fantasy, but I don't even know if you can call it that any more. When Sakaguchi left halfway through Final Fantasy X, the company just couldn't reach that standard that VI through to X raised the series to.


Not only that, but Square Enix is wasting more time on pumping out mediocre games or spin offs that, yes, makes them a lot of money - but overall they could have been spending their time on improving other things like Kingdom Hearts rather than flogging the dead horse of Final Fantasy. If they stopped making Final Fantasy games they'd still make a crapload of money from selling merchandise anyway. Take Star Wars for example; the last movie was made seven years ago and George Lucas is still rolling in cash.

Catuse

says

at 20:55, June 19, 2012 (UTC) "Somewhere a

zealous god

threads these strings

between the clouds

and the earth, preparing for a

symphony it fears impossible to play

. And so it threads on, and on, delaying the

raise of the conductor's baton

."

If I was the Supreme Overlord and Head Pontiff™ of Square Enix, who can make them do whatever I want, I'd...

Keep the company safe financially by releasing a bunch of terrible FFVII sequel-minigames and remake. Minigames don't take long to make, but if they're heavy on advertising they can bring in some good cash. Never mind the fact that they will be terrible, it means nothing.
Fire Toriyama. I'm not exactly sure he makes all that much of a difference, but he really really hurts the company's image.
Because they've been as bad as Yahtzee when it comes to non-Pokemon JRPGs, refuse to deal with Nintendo. Hitting them in the pocketbook might do something.
Sort out all those abandoned games. Whatever happened to Type-0 in English? vXIII? Fortress? At least tell the public they've been abandoned! After that, drop FF altogether and take Mateus' sugggestion. Other than the terrible sequel-minigames (see point 1). That pretty much will keep SE alive forever.
Finally, create Chrono Break. Because Chrono is <3
I <3 you Arciel
Edit
Things I would do....
Make the current CEO personally write apology letters to EVERYONE who dropped out at Square, including Koishii Ito of Mana, Yasumi Matsuo of Ivalice and Vagrant Story, Sakaguchi himself and Mistwalker, and EVERYONE under his rule since he started, then publicly air: If he shows signs of authentic remorse, his official resignation and apology to the people, or if he still shows signs of a spineless and heartless bastard, make him commit seppuku in front of all of Japan to see.
Give back ownership to franchise creators and their official rights to make games of their creative properties, in turn allowing to help them in return with publishing or co production.
Divulge money into the revival of Quintet and merge, while maintaining creative flexibility and rights, allowing the acquisition of the Soulblazer series and many older titles that can be revived in times to come, as well as fund creators with new and plentiful ideas and things to come.
Fund money into project to develop a processing system that maintains high edge cutting graphics without making people work to their marrow to achieve such standards. That, or help inspire fun and entertaining, as well as challenging and competitive gameplay in tandem with the level of talent the company has.
Make Vagrant Story 2, Brave Fencer Musashi 2: Apology Edition, Front Mission, Parasite Eve 4, Live-A-Live 2, another Mana game, Valkyrie Profile 3, fund the Tri Ace guys, The World Ends with You 2, even another Bouncer, and a probable many others on my mind that can't be grasped at the moment. Also create a Best of Squaresoft, Enix, and Quintet bundle edition like Sega and Capcom had, containing their best games that define what and who they are in the games industry, as well as what they can do.
Allow creators to create complete ending games to their series, allowing them to leave things in peace as well as create memories.
I also have a lot more on my mind but I'm just too freakin excited to concentrate. >w< Mask no Oni 21:37, June 22, 2012 (UTC)
Fire Toriyama and crush his office using a crane Eidolon equipped with a wrecking ball. It'd make a great scene in 13-3. Also, I'd release shirtless Noel DLC (free, of course). Obviously, these things are very important to me. After that, I'm not sure what I'd do. --Shockstorm 21:44, June 22, 2012 (UTC)
very curious question here.. why does everyone not like Toriyama? --Spira 17:16, June 25, 2012 (UTC)

They dislike his work with X-2, RW, XIII, XIII-2, MLaaK, MLaaD... I could go on, but I'm not completely certain it's necessary. He directed the first four mentioned, and was the scenario writer for the last two. X-2, RW, and XIII-2 have significant hatedoms within the fandom, and XIII is a notoriously large base breaker. MLaaK and MLaaD were simply subpar.

J

i

m

c

l

o

u

d

17:22, June 25, 2012 (UTC)

oh... ok . well i loved X-2, XIII and XIII-2.. but i do think they did feel a bit melodramatic.. especially XIII which was like watching a TV drama with all the twists and fake cliffhangers. oh well. still gonna have to bear with him for XIII-3 tho, right?--Spira 17:49, June 25, 2012 (UTC)

HD remake of VII, then drop everything for a couple of years and focus completely on Versus XIII, the Xehanort Saga, and IX-2. In that order.
If I owned Square Enix... Well, first of all, I would grow insane because, well, I own SE, the creator of my childhood. Secondly, I would create a Final Fantasy XV, and it would be a return to the franchise's roots, that is, it would be an RPG, not an MMORPG. The entire soundtrack would be created entirely Nobuo Uematsu. The main villain is a sociopathic, deprived, and generally depressing young boy who's mother and father were brutally slaughtered by a deranged, insane scientist who is revealed to be your father. The boy cuts off all emotional ties and then becomes nihilistic. He wanders about his old childhood home, spying on passerby for the first half of the game. He cannot be interacted with, however. By the second half, it's revealed that the boy has been the one causing trouble in the events of the game (the poisoning of the king, kidnapping of the princess, and setting your best friends house on fire, killing him and his parents, etc.). You come to his childhood home, where you find that he has taken the princess into his father's labatory (where your father worked with him) and conducted brutal experiments on her. By the time you've reached the lab itself, the princess has been reduced to nothing but a babbling, half-dead, in-coherent "human." She is then fought as the penultimate boss. You arrive to the deepest chamber of the lab, where his true motivations are revealed:
Your father was driven insane by the macabre experiments put on by his father. After he went insane, he murdered his father and mother and quickly retreated to that place. The boy then discovered his parent's bodies, and quickly has revenge on your father; he "experiments" on your father and successfully creates a human-robot hybrid. He then felt discovers his true purpose in life; to plunge humanity into darkness, so that humanity would feel the same pain that he felt that night. The final boss then arrives; your father. As stated before, he was mutated with machines and has grown off of negative emotions given off by humans. You heavily damage him, and he kills himself and subsequently destroys the lab, kills the boy, and you (and your party) emerge. However, you have a broken leg, and you recuperate at home. The game ends on a cliffhanger, when a hand emerges from the rubble of the antagonist's home...
The main character is re-nameable, and functions as a sort of Black Mage (though he can learn some later-level White Magic), and can learn Summon magic later on in an event. His best friend is named Argus, and fits the role of a Warrior. You have two younger siblings, a Black Mage and White Mage, respectively named Luneth (an obvious reference to Final Fantasy III) and Terra (Oh, I just had to.). A young thief similar to Zidane is also a playable character, though in battle, he acts like a ninja.
The game will feature many references to IX, because it's my favorite game, and will have the option to switch from 2D and 3D. It'll be released on the PS3, Wii, and the 3DS. It would be the darkest in the series, and considerably more intelligent.
Later, I would create a sequel to Chrono Trigger.
... That's what I would do :D. What are your thoughts on my idea for XV? 67.244.5.142 21:54, July 6, 2012 (UTC)

I would personally dump the entire MMO idea. Then I'd get

the story writing team from Versus XIII and have them begin on a new Dissidia sequal which added in characters from Kingdom Hearts and I may then port it to the Ps3/360 or the next generation of consoles as

Spira

suggested.
If I owned Square Einx
Edit
1) I'll celebrate for a day or two. Square Einx is cool, and I enjoy their games that I own.
2) Continue to work on getting Curtain Call, Type 0, Agito and Praying Brage released in the UK. Also continue to get KHIII (even though I am not the biggest fan of the series) and FFXV released. I won't fire any of the people that are working on those games.
3) Hire a couple of upcoming writers, graphic designers, and musicians, before splitting the company into at least three development teams, which will be named Chrono, Cloud and Sora (Just because they are some of the company's most famous characters). Team Cloud will start work on developing new titles in existing series such as Final Fantasy (FFXVI and XVII) and Dragon Quest (XI).Team Chrono will work on making sequels to popular games (Including the sequel to TWEWY, a new Compilation of FFVII title, a new Ivalice prequel, Bravely Second/Third and another Chrono game).Team Sora should be working on developing new intellectual properties which vary in genre (from RPGs to FPS, and most other genres in between).
4) See what sells and adjusts the plan accordingly. Maybe add more development teams if needed (Maybe named after a famous Dragon Quest character?)