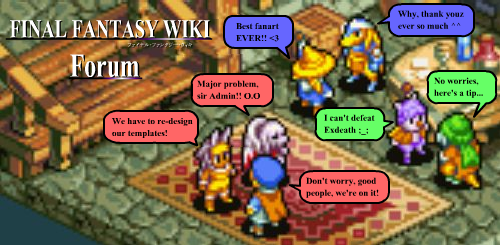 Okay, the premise of the topic is this: Which character would you like to see paired up with Genesis in a fight/popularity contest? I have vague, ominous reasons for making this topic, which are actually probably ridiculously easy to figure out. In fact, I'll tell you, & hope to Cosmos that there isn't a rule against this kind of topic:

I want Genesis to appear in the Dragon's Neck Colosseum. He never has, so I think it's about time. But I think all of the suggestions at present are retarded. (Kuja, & freakin' TWO Sephiroths).

I want it to be an interesting debate, not a boring waste of everyone's time where one of them just gets easily squashed, so try to keep that in mind. Here are my ideas:

Terra Branford In common: Sword-&-magic users, freaky half-summon things, used by an empire, Romantic (not pertaining to love story) themes. Problems: VI & Terra have a fanbase that is probably much larger than Genesis's, so I'm worried about a one-sided fight.

Angeal Hewley In common: Not much, really. In fact, I would argue that Angeal is Genesis's antithesis. He doesn't seem to use magic, he fights very ungracefully, etc. The reason I suggest him is because they have a pretty close fanbase, & the game has them fight, but off-screen, & unresolved. I, personally, believe that this would be the most interesting one. Problems: 2 FFVII characters, Angeal is fairly unpopular. Worried it will get rejected without much hesitation.

Seymour Guado In common: Both are strong physical attackers, but also have good magic in their arsenal. Both are main antagonists who are overshadowed by a secondary antagonist (secondary in their game, anyway), both killed one (or both) parent(s), both tried to merge with a summon, both recurring bosses. Problems: Seymour & X seem relatively unpopular to me. He's also so magelike that people might just write him off out of preference. Worried about a one-sided fight.

And another one that was suggested to me:

Vincent Valentine In common: Both worked for Shinra, both indirectly responsible for Sephiroth's madness, both experimented on, both seemingly immortal, both have something of a dark theme to them (even for VII), & they even dress similar. Problems: Vincent will probably win, another all-FFVII character suggestion, & honestly, I don't feel these reasons are that great (no offense to the suggestor, of course).

So, why did I make this topic? In short, I thought it would be interesting if I got input from the Wiki to help me decide on this issue. Make your own suggestions or agree with one here. Either way, note that this IS NOT a poll. The character with the most votes will not automatically be submitted by me (as that would be pointless), I'm just looking for input to help me make a more informed decision.

Lastly: I hope this topic is allowed to stay, but I'll certainly understand if it is deleted. The subject is somewhat controversial, and leaning on triviality, even for a discussion forum.

Thank you, &/or I apologize, in advance.

PS: Please do not suggest characters who would obviously win via plot or fanbase reasons. Plot reasons meaning, if the character is shown to be stronger or weaker than Genesis (so, Zack & Sephiroth), or an inference can be made that he is stronger or weaker than another character (Cloud, as he's probably similar to Zack in strength). Fanbase reasons meaning the character is so ridiculously more/less popular that it won't even be a contest. This one will be much harder to figure out. Just use your best judgement on it.
TenzaZangetsu 17,957 25 April 2009 (UTC)  -   "If you need someone else to fulfill your dreams, it loses it's value, wouldn't you agree?":

First of all, Neo, that's the biggest message that I ever see, how can you write that long?. Second of all, you are right, Genesis deserves a chance and I choose Vincent because it was my idea choose him and I love everything that was my idea.

If it weren't for all the details I had to give people to make sure they knew exactly where I was going with this, it would have been about half that size, maybe less. Other than that, I'm verbose. What can I say? As to how I can type that much, I seem to be nearly immune to carpal tunnel....
TenzaZangetsu 17,957 25 April 2009 (UTC)  -   "Should I give you Despair?":

Well, is impossible for me to write that long but that's because I'm a very simple person who doesn't like to give information with many details. But this topic isn't about that, we should decide who is Genesis's foe, a idea that I'm supporting.

Right, well, as I said before, I'm in favor of Angeal, right now. What I really want is for fans of games other than VII, Tactics, & X to show up, to see if they can enlighten me to a better character to use.

Well, i never really liked Genesis, but for a fair fight, id probably say Squall, but because of all the VII fans around that hate VIII, thats not even worth considering... Amarant would be a good one too. Genesis vs. Shadow might be interesting too.