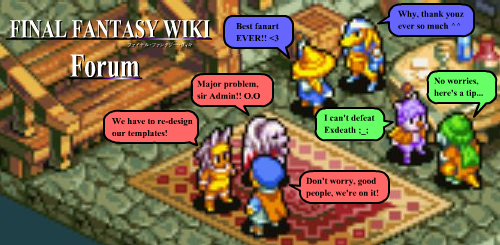 tl;dr

Bravely Default is not Final Fantasy, and we have interview proof that this is the case.
The canonicity of the title should be dictated by this, rather than by sentiment, popularly held or not.
I will be in touch with Fandom's SEO teams and the relevant community teams in the Gaming vertical to ensure any move to a new wiki is smooth, and will be happy to set up things such as a new skin.

Hi all. With the recent announcement of Bravely Default II, I think now is a good time to discuss the issue of moving our Bravely Default content to its own wiki. Given that the conclusion to previous discussions was that we should revisit the topic in the event that later entries to the Bravely series continue to become distinct from Final Fantasy, I think it is fair to reopen the discussion.

Let me open the discussion with comments made by Bravely Defalt producer Tomoya Asano in this interview:

Well, the previous game that I worked on, Hikari no 4 Senshi, was actually titled Final Fantasy Gaiden. So there was a legitimate connection to Final Fantasy. But after we finished that, I wondered, well, what should we do now? We could have made something within SE's main series, like a Final Fantasy or a Dragon Quest, but I wanted to instead work on creating something with a new feeling, and new brand entirely.

Mr. Asano

Additionally, Asano stated here that the Final Fantasy elements are just relics of its early development and remained in the final product to be more familiar to JRPG fans.

So, to conclude, Bravely Default is not a Final Fantasy game, has never been marketed as such, and includes no elements like a moogle, chocobo, or even the Gil currency that would definitively conclude it is one. Starting development as a Final Fantasy game definitely does not warrant the wiki treating it and all games in its series as mainline entries. Rather they should be treated the same way Kingdom Hearts in: an adjacent game with many similarities, which we can note on pages, without acting as if it is a Final Fantasy game, which it definitively is not. I feel like this should be more determinative than what a popular held sentiment that a game "feels" like Final Fantasy should be.

When moving to a new wiki, I understand the concerns about losing any content already on the wiki related to Bravely Default. However, I feel like, with its own dedicated community to give it much more attention, as opposed to on this one where our editors have to divert time to many other places, Bravely Default at its new home could be far more successful.

In order to ensure this is the case, if there are no objections, I will discuss with the relevant teams at Fandom in both SEO and the Content Team in the Gaming vertical to ensure this transition is as smooth as possible, with minimal SEO impact to us, and positive impact to the new wiki. I will also happily serve as Wiki Manager for the new wiki, and create (at the very least) its theme, front page, and any and all necessary templates to move things over.

Please let me know your thoughts and if you are willing to help.
Some Color Mage / Talk Contribs / Let's Stream Random PS4 Crap. / 09:15, December 13, 2019 (UTC)
Alternate title: Canonicity of Bravely Default, Hopefully For the Last Fucking Time.

When this topic came up with Default, my opinion was that as a single title with more than a passing resemblance to FFV's job and magic systems, it made sense to include here. When this topic came up with Second, I argued that we brought the topic up way too early and we should talk about it when users that only know English had more information. Said later discussion didn't happen, mostly because a bunch of people were sick of one particular annoying user who had an amazing talent for poisoning what was allegedly their own side of the argument.

We don't need to wait for Default II to come out. Second distanced itself from the classes it borrowed from FF to focus on its own classes, only one of which (Astrologian) could be considered related. Second culled the spell lists it borrowed from FFV. The only FF related thing that has a similar level of prominence in Second that it did in Default is that the Seven Deadly Sins from 4HoL are still there. Furthermore, Curtain Call lists Default in its non-FF section, instead of the miscellaneous FF section.

We have more than enough proof that the series is not first-tier scope, to the degree that we don't even need to take the words of the dev team into consideration. It is certainly a related series that requires a degree of coverage, but nowhere close to what we currently do.

I am definitely interested in working on a forked site, so let it be clear I'm not just trying to mark a significant chunk of the site as "not our problem lol". It just appears to me that it's not meant to be here.

Hexedmagica

 - Rathalos: World Tour/All Ass Sword

TALK

- My companions' feelings have been etched upon this body. I'll change this eternal darkness into light! Heaven and Earth! One who matches the gods! CHOUGINGA GURREN-LAGANN! 09:26, December 13, 2019 (UTC)

So as the person who basically started this chat and is actually vaguely willing to do content work for II, I'm changing my stance from whenever the fuck we first had this chat to, yes, we need to fork it at some point before the release of II, also because I need to actually at least pretend to do something with how staff-y I am.

Yay for Bravely Wiki creation. We can link to each other and all that. Some 4 Heroes of Light stuff could be in both wikis if it's in both games. That series can have the proper space to shine in its own wiki.
Techno has practically stated all my points on why it should be separated from this wiki at this point. We don't cover the likes of later Mana and SaGa titles on this wiki even if they had their heavier FF-based roots for their first titles. So yeah, let's send them to a new proper Bravely series wiki.
On the topic of 4 Heroes of Light, keep everything here, and just give it a page on the new Bravely series wiki that still redirects to here, similar to our Kingdom Hearts page linking to the KH wiki. The thing is 4 Heroes of Light, despite being called a Gaiden game, is still a just an FF game, even being helm by the King of Traditions himself, Takashi Tokita. --Miphares (talk) 16:23, December 13, 2019 (UTC)--Miphares (talk) 16:23, December 13, 2019 (UTC)
Some Color Mage / Talk Contribs / Let's Stream Random PS4 Crap. / 20:52, December 13, 2019 (UTC)
For the incredibly few shared things (so, uh, jobs, maybe spells/items, and a few bosses), we would be doing the same thing we do for Kingdom Hearts, we give a brief overview and link to our affiliated site. 4HoL content would not be affected, it's first-tier scope, it remains here.
If I've understood comments Techno's said on the Discord correctly, we'll be able to start preparing a fork in about a day's time, so if there's any reason why we shouldn't do this, now's the time to speak up. -- Some Color Mage ~ (Talk) 05:11, December 15, 2019 (UTC)
happy to see this matter finally resolved. happy new year. --Arciele Spira (talk) 03:41, January 2, 2020 (UTC)
Hi all, the new wiki now exists at w:c:bravelydefault. Not quite finished the main page or logo yet, but the rest is set up. All pages from the Final Fantasy Wiki have been imported, and I also imported a bunch of templates that I use on other wikis I set up as Wiki Manager. Not imported Final Fantasy templates yet, in case they need changing in any way, though most can just be copypasted.
I'm thinking we give it like a few weeks or so of a "transition" period to move content over, get it perfected on Bravely Default Wiki, and hopefully go through w:c:bravelydefault:Special:SpecialPages and resolve all/as many maintenance concerns as we can. Namely, I'd start with the WantedTemplates, create (or just copypaste) templates for all of these, and then go through WantedPages, add images, and finally fix any remaining links. The other thing would be creating pages for things like individual spells, which we don't have on BD for the time being.
I've given Hexedmagica and Some Color Mage bureaucrat rights on the wiki, as they agreed to it. I am now serving as the Wiki Manager there, and I'm sure they'll be happy to consider new staff members. In the meantime, we encourage people to edit Bravely Default content on the Bravely Default Wiki. We can consider this a "transition period". Once the wiki's in a good shape, i.e. no maintenance reports and good quality pages, we will begin the process of deleting Bravely Default content from the Final Fantasy Wiki, and replacing it with second-tier scope coverage. Thanks all, and let me know if you have any questions or need help!--

Technobliterator (TC) 22:09, December 18, 2019 (UTC)
Community content is available under
CC-BY-SA
unless otherwise noted.