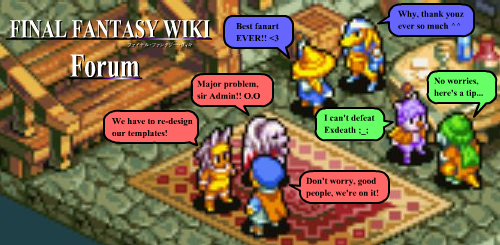 Hey, Space Monkeys! Go put all your heaping piles of hype right here if you haven't already freaked on every other form of social media. Or freak out again! Why not?

FFVII REMAKE. OMGOMGOMGOMGOMGOMGOMGOMGOMGOMGOMGOMGOMGOMGOMG!

If it will be more like "based on the original FFVII" game then maybe it should have its own article separate from the FFVII article. Guess we'll see how much they will share.
I can't imagine how a remake on this level will keep things fundamentally the same. i expect directed cutscenes.. voiceovers.. remastered music. changed scripts. it'll probably be like a different game altogether.. but i am excited as F--Arciele Spira (talk) 03:30, June 16, 2015 (UTC)

I was disappointed that it wasn't a Dirge of Cerberus remake. Man, FFVII remake? Why couldn't have been FFX-2 or The After Years? Those are real quality games. ScatheMote 04:12, June 16, 2015 (UTC)
Was that Red XIII narrating? omg plssss NANAKI BB I WANNA SEE YOU IN HD [HUGS] 8bit 04:16, June 16, 2015 (UTC)

I NEVER THOUGHT

I WOULD SEE THIS DAY

SERIOUSLY

re: new page not sure yet we could do something like what they're doing on Wookieepedia with canon and legends but I dunno I think if we don't for FFIV 3D we shouldn't for FFVII

BUT OH MY MOTHERFUCKING GOOOOOOOOOOOOOOOOOOOOOOOOOOOOOOOOOD TIFA AND IN HD MATERIA SYSTEM IN HD

WHAT THE FUCK THIS IS HAPPENING

y'know I have a theory

what if SE made this game so that people would be hyped for it and buy a PS4 for it

so they had a PS4 for FFXV?

okay now BACK TO HYPING OH MY GOOOOOOOOOOOOOOOOOOOOOOOOOOOOOOOOOOOOOOOD

I returned from the dead just for this. As much as I think FFVII is an overrated gameu, ZOMG ZOMG ZOMG ZOMG ZOMG ZOMG ZOMG ZOMG ZOMG ZOMG ZOMG ZOMG. Done. *Azul dissappears back into obscurity in a cloud of smoke*
Woo! Yet another reason to get a PC that can do something besides toast bread User:R8.50Mango/Sig2 17:55, June 20, 2015 (UTC)
Community content is available under
CC-BY-SA
unless otherwise noted.