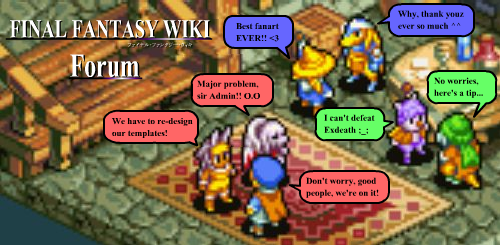 TheBlueRogue

 - "Impossible is a word people use to make themselves feel better when they quit"

TALK

- 23:50, June 08, 2015 (UTC)

Hey there, Final Fantasy Wikians. My name is Doug and I'm a member of Wikia's Development Team! Wikia and Square-Enix have laid out plans to organize a Community Choice Awards to celebrate the release of the upcoming Final Fantasy XIV expansion, Heavensward.

Community Choice Awards are essentially big poll battles that allow users to vote in a bunch of categories that will encompass the entire Final Fantasy series. Categories include things such as favorite characters, weapons, bosses, villains, locations, things of that nature. Users will vote on their personal choice within that category, and the item with the most votes win! The voting will last for approximately one month (concluding on July 9th), and we'll be promoting the page across our entire network, resulting plenty of outside eyes, user traffic, and votes from all over!

If you're curious to see how Community Choice Awards look, check out a few of these examples: Call of Duty, League of Legends, Civilization: Beyond Earth.

I wanted to stop by to let you guys know as much details as possible about this:

1. We would love to host the CCA on an namespace page on your wiki (something along the lines of (http://www.finalfantasy.wikia.com/wiki/Final_Fantasy_Wiki:_Community_Choice_Awards). Using this method, we can enable comments to this page and ONLY this page, I know the community here prefers blogs to be disabled, as well as article comments. We want to respect that. We could also host it on the forums if you guys prefer that.


2. We will utilize the website PollSnack to create our polls, as opposed to our in-website poll tool. It gives us a bit more customization and is easier to update without losing all voting progress!


2. I will personally handle all poll implementation, comment moderation, and template creation so the primary contributor base here will not need to stress about handling any of the workload. All of you are more than welcome to submit votable categories and nominees for this, however. I'd certainly love to hear them! The more input the better.


3.

We are shooting for the CCA to go live in two days, June 10th, 2015

. I know this is a bit last notice (and apologize for that). I wanted to let you guys know as soon as possible in case any of you had any questions or concerns about any stage of this.

B

lue

H

ighwind

Q?

00:19, June 9, 2015 (UTC)

TALK

- So if you care to find me, look to the Western Sky!

ツ

:

Not that I can speak for the entire community, but I'd say I'm fine with this. You're doing all the work, how can we complain? Plus, I always like community events like this.

I'd say we can do it your way with a Namespace page and PollSnack, we usually run our own fan polls every two or three years by the name of 'Magicite Madness' in the forums and our Dragon's Neck Coliseum. They're a bit out of date since they're before FFXIV and Type-0 and Bravely Default, but you can use the rosters pretty well as a start.

I'm assuming voting is open to all readers not just editors, correct?
That's an interesting idea.

Ad 1. Considering it's official since Square Enix and all, I think Projectspace will suffice.

Ad 3. Votable categories and nominees are important thing to consider about in regards to Final Fantasy series; "Favourite Game" is a must, like "Favourite Character", but the latter may prove troublesome since there's a lot of characters in the series, and that only including playable characters; we should also avoid unreleased games and games with demo since we know little about them actually. "Favourite Location" and "Favourite Song" should also be done, but again, lots of entries; we'd need to discuss what categories we want and nominees. Also other "Favourites" I can think of the top of my head: Villain, Superboss, some variety for Song, like Battle Theme, Location Theme, Event Theme, and Character Theme; Weapon (although what exactly would fit here, characters' trademark weapons only + some very regular ones?).

---

Is there an article you think is of an exceptional quality? Vote for it

here

!

FFWiki has run similar voting tournaments in the past, and still does with the DNC, so this is something the community is used to. I like the sound of this idea, it fits well within how many different opinions people have of all the games and with a community that's run similar stuff before. Nice one.

btw, can I be flattered that you chose this wiki along with those others specifically? :D

TheBlueRogue

 - "Impossible is a word people use to make themselves feel better when they quit"

TALK

- 23:53, July 9, 2015 (UTC)

Hey everyone! Wanted to stop by and let everyone know that the Community Choice Awards has officially concluded and the post has been updated with the winners. Seems like the announcement of the Final Fantasy 7 Remake during E3 helped FF7 win A LOT of the categories.

I did want to say that we got nearly 30,000 total votes from users, which is one of the most successful Community Choice Awards we've ever done! Thank you all so much for promoting the event through your sitewide message.

Hopefully this isn't the last time we do something like this!
Community content is available under
CC-BY-SA
unless otherwise noted.