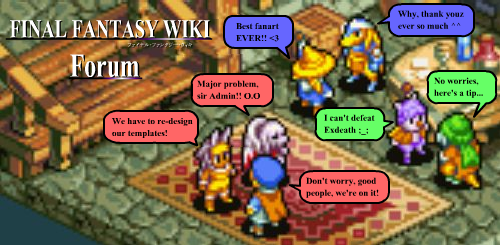 Welcome to the Final Fantasy Wiki fanart gallery! This is where you can display your fanart! Got fanart? submit it!
For the wiki
For misc
By non-members
Edit
This is for fanart by artists who are not members of the Final Fantasy Wiki.*
>
*Each guest fanart from the outside remains copyrighted to its particular artist, and can only be used here with the verifiable express permission of the artist. Do not upload or display such fanart here without said permission. If you add more fanart to this section, please provide the artist's name and the permission granted by the artist. Also, please fill in the copyright form accordingly.
Chibi Fantasy - a collection of chibis of various characters in Final Fantasy (currently under construction)
Discussion
Edit

Alright, I've never been too sure of this, mostly because the issue never came up till now, but how exclussive is this page? Users only or are we allowed to upload fanart from any place on the internet as long as we got permission?

As long as it isn't hentai that was the impression I had.

Wait, nevermind, issue has been sorted out. Carry on.
I feel sorry for this page. It's dead as a doornail.C A T U S E04:46, January 7, 2012 (UTC)
Nuke it?
Edit
Topic. Doreiku Kuroofangu 13:02, September 18, 2012 (UTC)
Or... maybe we could have a fandom namespace or something.
I don't like it. Delete. 79.69.207.3 13:22, September 18, 2012 (UTC)
Bump since I happened to notice this page. Drake Clawfang (talk) 12:32, August 26, 2013 (UTC)
Doesn't really fit with the rest of the site.Keltainentoukokuu (talk) 12:40, August 26, 2013 (UTC)
Move to Sanctuary or nuke it. —

Yuan

Salut

07:11, August 27, 2013 (UTC)

Fourthing. or whatever number it is now--Arciele Spira (talk) 07:23, August 27, 2013 (UTC)
Zi'tah it. Just plain deleting it would probably be rude to those who have contributed. --

Some

Color

Mage

~ (Talk) 07:24, August 27, 2013 (UTC)
Community content is available under
CC-BY-SA
unless otherwise noted.