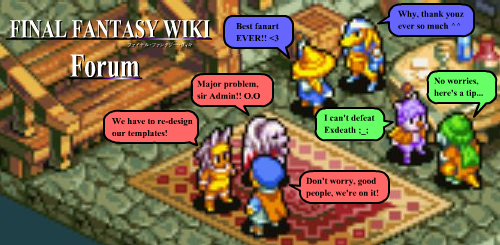 So, want to get a clear policy on two things regarding FF6 sprites.

First - usage of battle or field sprites as the "small" image for the characters, that is the generic sprite used in their infoboxes. The battle and field sprites for the game have very slight differences, and I just want to establish a consistent policy of which to use for the characters. I don't think we need both separate, the cast will all have sprite sheets soon and that's enough IMHO. For which to use as their "small" image, I don't feel strongly one way or the other, but I'd lean to using field sprites because that's what we'd have to do for everyone else who isn't playable, so let's be consistent.

On the other hand there's the GBA sprites, and FF6 Advance as I'm sure most know used a lighter palette. The sprites are identical, can confirm myself firing up FF6 Advance in an emulator and comparing both battle and field sprites, just colored a little different. So do we want separate GBA sprites? On this my opinion is a no, because the coloring differences are negligible and in terms of being illustrative of the character it is not something most people would even notice unless they squint. If we do want GBA sprites, it'd be a pain - the FF6 Advance editor tool I have can't export proper sprite sheets like the SNES editor, so I'd have to export SNES sprites and recolor them with the GBA palette, which I can get simply enough. So it wouldn't be difficult to get GBA sprites, it's just be a lot of tedious pain in the butt work to make them one by one.

I've made a comparison image showing the GBA palettes (only 4, just to give an idea) versus the SNES, and the Field vs Battle sprites.
I think that field sprites is a wise decision. Also, I don't think we need sprites with GBA palettes since they are just brightened up SNES tiles; less things to worry about.—Kaimi (999,999 CP/5 TP) ∙ 22:40, July 12, 2020 (UTC)
I'd lean towards SNES field sprites as well, to be honest. Like you said: consistency, and they look a little higher quality to me..--

Technobliterator TC 22:41, July 12, 2020 (UTC)
An update in the interests of fairness - I actually CAN get field sprites with the GBA palettes, or very close to them, by changing the color palettes in the SNES version to match the GBA. They are not completely the same, but are like 99% identical, you couldn't even tell the difference unless I put two color swatches side by side.
---
Okay, update on this for the enemy sprites. Now, it goes without saying that for enemies that are substantially different in the GBA or PS versions, like censored sprites, they absolutely are needed.

However, as begin to upload 2x upscaled versions of the GBA sprites, I can confirm they are identical to the SNES sprites, just a bit lighter or darker as most of the game. Guard, Silver Lobo, Megalodoth, and Wererat have their new sprites and you can see by tabbing between them they are the same sprite.

To answer the next question - the SNES sprites are 2x upscaled (no filtering or smoothing, just upsized) to scale with the iOS/Steam sprites as they do in the boxes there, and for easier visibility. So all the GBA sprites need upscaling and reuploading too. But, given that most of them will only differ from the SNES sprites by coloration, do we feel we NEED the GBA sprites if they aren't different in a more substantial manner?

We don't really need the ones that aren't legitimately different. It's better to use the higher quality ones (the SNES ones) in the cases where the sprites are basically the same.
Community content is available under
CC-BY-SA
unless otherwise noted.