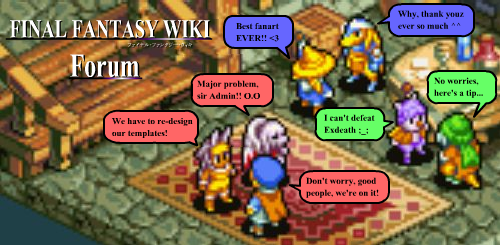 I am currently bored and thought it would be a good idea to create a flash version of Dissidia. I don't have much experience in Flash game creation but we need different people to do different things. This version involves the main heroes and villains against the support heroes and villains.
We currently need:
People to help the Lead with the game creation
A Lead Artist

A Character Art Designer - Pure-Moneo has currently taken this job
Someone to draw the other art

A plot creator - DrakemasterDrake

People to help the plot/story creator -A friend of mine,

Voice Actors -Naruto195,Vegna Gunner
Anyone that can help, leave a comment here. Anyone that believes they can assist in some other way should also leave a comment.
ALSO ALL MEMBERS ARE ALLOWED TO FINALISE TWO CHARACTERS IN THE CHARACTER LIST!
The story so far
This game focuses on two demi-gods who were banished and locked away in the Realm of the Forsaken, but after the crystals were lost (this probably doesn't happen in terms of the original Dissidia but I dont care, its my game) the Realm was unable to hold the Forsaken and they escaped. One of them (who calls himself Emissary) recovers the crystals and using them absorbs parts of the original heroes and villains, also giving him a life bond with them, so if any of the heroes and villains die he will lose power. The other Forsaken (called Harbringer) recruits support characters and villains, tricking them and making them fight against their leader.
Things to Do
We need a list of characters (post one major or support villain and hero per game, so for example for Final Fantasy 4, you could have Cecil and Golbez as the main hero and villain and Kain and an Archfiend as the support hero and villain, so there will be a max of 4 characters per game). And don't worry everyone is allowed to edit it.
Character List
If you wanted to create any concept art for this add them here:
Concept Art
Website
I am currently making a website, so I wont be doing much editing but I will answer any comments.
Comments
(I'm still kinda new to editing so feel free to fix what I've done... :\)
Uh I'd gladly help with character art/concept art. Artsy stuff in general. If you're interested, feel free to e-mail me. Pure-Moneo 17:31, 18 April 2009 (UTC)
How about instead of a support hero and support villain, use a character whose alignment is more of a gray area or fought on both sides. Example: Kain was a good guy mind controlled by Golbez, Leon was the Dark Knight in FFII but then helped the heroes, and Angeal in Crisis Core was flipping back and forth between sides. SilverDragon28 18:05, 19 April 2009 (UTC)
I would love to help with he voice acting. If you need to contact me,do it at my youtube Keyblademaster333 or Naruto19x3@hotmail.com. I could do Genisis but I'll do who ever you would like done. Naruto195 11:20,19 April 2009 (UTC)
I'd like to voice act to if you need more people, I'll be anyone, i don't mind, If i can contact me at nads42@hotmail.co.uk Vegna Gunner
I'm actually trying to learn how to create flash animation now, but I'm no where close yo being able to do it well. If you need help with plot or dialouge, then I'll help you out. I would volunteer to voice act, but my laptop has no mic. and I don't really have the money to waste on something I don't need at this time. Maybe if I have one before the game's completion I can help you out.
I could do voice acting or anything art-related. - +DeadlySlashSword+ 02:51, 23 April 2009 (UTC)

I finalized my characters. I don't think I could voice Cloud or Zack but maybe a darkn evil voice.

I've chosen Auron and Seifer as my finalised characters

Sounds like a fun idea, but I think y'all are severely underestimating the amount of work needed to make something like this, not to mention the difficulty of doing it. Even an extremely low-quality draft with only one stage, two characters, and no commands other than just moving around could take you several months finish. The finished project I believe would literally take years, so while I wish you the best of luck with the game, I doubt you'll ever finish it.

If oyu guys think we are going to fail,go ahead but don't come on to this and say it. THis isn't a place to say "Fail". Were working on it

This is the comment section, not the "write only nice and supportive things here or we'll get all D="-section, so that's what we did; we commented. You might not like what we had to say, but tough cookies, we spoke from experience and are trying to save you from potentially wasting a lot of time of effort. Now, I could go into a lengthy rant on how none of you seem to have considered how long it takes and how hard is to make something like this. I mean, even something as short as crappy-looking like this takes +100 hours to make.

So here is my advice for you all. Before investing maybe weeks of you time in making the character art, stage design, plot, etc., make a working demo. Nothing spectacular, just a box-figure for the playable character and a stage for it to move around on, and an AI that moves around as well. Doing this proves two things:

That BahamutOWN can commit to the project, since many project leaders who start something because they are just "bored atm" usually quit after a week or two after they have to do actual work themselves and desert everyone else who invested a lot of time in the project up to that point (no offense, bub, not trying to single you out, it's just something that happens often).
That at least one of you have the skills needed to make the game a reality. Because no matter how great the story or amazing the art, if not a single one of you can code the game, it'll never get made, so everything done up till then is essentially a waste of time.

But anywho, I wish you the best of luck with making the demo, and if you succeed with that, then with the game as well. Much lubz.

Thanks for your comment Hecko, just wanted to say that I am committed to this project (and so are some other people) and I am trying everything to get a scripter. And even if it does take a long time I will always try and keep it running and if not I will put someone else in charge and try to help out as much as I can. And this is a fun project, not some kind of serious thing that we have to make or we go bankrupt, and I appreciate that it will take some time to make, and if anyone needs to drop while this project is going on, you are welcome to, I am not going to write bad things about you or anything, but I hope we stay together till the end :D


Again, thanks for everyone that helped out.
I'm pretty sure the game will actually come out, even if it'll take a year or so (actual games around that much time!), and we're working on it right now.

He's right games do come out at that kind of time limits, anyway I don't mind how long it take to get finished, because this is a fun project as I've already said, as long as everyone has fun doing this the time it takes to make it doesn't matter.

I think this is a great idea :) The only thing is, i dont think Dirge of Cerberus and Crisis Core should be there, because it gives VII a total of 12 characters, which is a bit unfair to fans of the other games.

They will be treated as independent characters and wont take any side with the other Compilation characters, but I'm sorry if you feel bad about it theres not much I can do to fix that, unless you have suggestions

Well, if the characters are independant from eachother, then i guess its not that bad, i just didnt think itd be fair if they were all together and gave VII 12 characters all together. And if i can help with anything, ill do what i can. Im aiming to become an actor in the future, so if you still need help in the voice acting, i could see if i can help out there.